Businesses warned about the boss's email asking for cash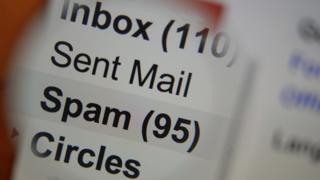 Office staff are being warned about fake emails that appear to come from one of their bosses, telling them to transfer money.
Financial Fraud Action UK (FFA UK) said there had been a particular rise in the scam in the last few weeks.
Several small or medium-sized companies in the UK have lost sums of between £10,000 and £20,000 as a result.
Typically, staff in a firm's finance department receive an email, which they believe is from a senior manager.
The fraudsters use special software to make the message appear genuine.
The emails request that urgent payments are made outside normal procedures, often for a pressing reason, such as the need to secure a contract.
The scam has been dubbed "whaling" fraud, as it targets the so-called big fish of business.
Language
When the money is transferred, it goes into an account set up by the fraudsters.
"While an urgent request from the boss might naturally prompt a swift response, it should in fact be a warning sign of a potential scam," said Katy Worobec, director of FFA UK.
Staff are being advised to:
check unusual payment requests in person, or by phone
not use contact details provided on such emails
be cautious about unusual transfer requests
consider whether the language used in the email is unusual, or different to that usually used by the sender
ensure email passwords are robust