Rugby World Cup 2015 hailed as commercial success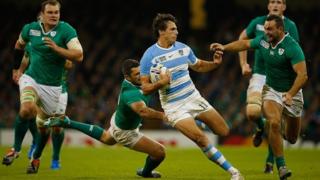 As the Rugby World Cup heads to an exciting conclusion, the boss of the global game says the tournament has exceeded expectations both on and off the field.
Brett Gosper, chief executive of governing body World Rugby, says that the 2015 event has been the most commercially successful World Cup to date.
The six-week long event ends with the final at Twickenham on Saturday, 31 October, with the semi-finals this coming weekend.
"The commercial value is up by 50% on 2011," says the 56-year-old Australian, a former professional rugby union player, referring to the increase in revenues from the New Zealand event of four years ago.
"That includes money from sponsors, broadcast revenue - of which the main part is TV rights - and hospitality. All of these areas have done fantastically well. That is all revenue that we reinvest in the game.
Sponsor backing
Mr Gosper says a strong financial platform has been created by having the team of business partners and sponsors all signed up one-year before the start of the Rugby World Cup, something World Rugby had never managed to do before.
"Without our commercial partners the Rugby World Cup would not exist," he says. "We are grateful for the time and money they put in. [Meanwhile] the sponsors like to be associated with a brand like rugby that is all about character."
He says there will be some £150m accruing from the event to reinvest in the sport around the world, including in new markets for the game.
"We are committed to growing the game in new markets, and promoting the sport beyond our traditional comfort zones," says Mr Gosper, a former advertising and marketing executive on Wall Street.
"We have seen huge growth in Brazil, India, China, Russia. It is also the fastest-growing team sport in the US."
Digital media
In addition, the current Rugby World Cup has broken all records for online interaction, with more visitors to the official website in the first weekend of the 2015 event than in the whole of the 2011 tournament.
He says that social media interest has soared, and there has also been a strong interest in viewing video clips.
Part of that initial spurt in interest was generated by Japan's victory over South Africa in the first weekend of the World Cup.
Meanwhile, on television viewing numbers, Mr Gosper says that there have been record TV audiences "in traditional markets, but also in new markets".
For example, looking at 2019 Rugby World Cup hosts Japan again, their victory over Samoa was watched by a record national television audience of 25 million viewers.
"Japan got interested in their team on a massive scale. That augurs well for 2019," says Mr Gosper. "I thought because they lost their previous game to Scotland, that interest would wane for the next game, but it actually increased."
'Reach and value'
As a sign of how the game is reaching into new countries, in one non-core market - Germany, which has never taken part in a Rugby World Cup finals - three million people tuned in to watch the England v Australia group game.
There have been some eight million German viewers for the event overall to date, and that figure is set to increase over the semis and final.
In order to promote the sport, in some geographical TV markets World Rugby has looked to ensure that games were free-to-air as a means of attracting interest, rather than trying to monetise the rights for a premium.
"Our strategy is reach and value. We would rather grow the game than seek short-term gain," he adds.
As well as benefits for the global game, Mr Gosper also said that England's RFU, as the host rugby union, was set to financially benefit from strong ticket sales during the World Cup, as it will retain match gate receipts.
That money will be reinvested in grass roots rugby union.
Some 2.42 million tickets have been sold, exceeding the 2.25 million figure for France RWC 2007, and well outstripping the 1.6 million sold last time round in 2011.
Mr Gosper was speaking to the BBC at the Beyond Rugby conference, part of the Beyond Sport Summit, which seeks to promote the role of rugby in bringing about positive social change worldwide.
"There is no better time to discuss how rugby can create meaningful social change around the world," he says. "We are confident rugby can create jobs, and create social mobility in poorer, less-developed nations."
Going for growth
Mr Gosper, who has been at the helm of World Rugby (formerly the IRB) for three years, says that the sport is experiencing unprecedented global growth.
Globally some 7.2 million people play rugby, including men, women and children. One-fifth of all players are women, and that proportion is higher in the USA.
Meanwhile, some 180 nations play rugby, and 120 of them are members of World Rugby. Ninety of those nations set out on the qualifying stage for the 2015 Rugby World Cup, which was whittled down to the final 20.
The Olympic Games in Rio next year can open further new doors for the sport, with Rugby Sevens included for the first time.
"In Brazil we are a challenger brand to football, but we are tackling that market and there is a real interest in the sport in the country," says the former Racing Club de France player.
"We are determined to leave a legacy, and are going into the schools and favelas with rugby."
He says in the past two years 46,000 more children have been introduced to the game in Brazil.
Japan focus
Meanwhile, it is hoped the 2019 Rugby World Cup will give the sport a greater foothold in Asia, and plans are already being drawn up to help activate that event "through business partners".
"We will make some adjustments to allow more local brands to take part [as sponsors]," says Mr Gosper.
"We will find a way to to generate the involvement of Japanese brands, ones that will sit well with our global partners. That is critical for us."
For now he is hoping that the final four games of this year's event can match the drama that has gone before.
"The Rugby World Cup 2015 has not just met the script we had envisaged, it has gone beyond the script," says Mr Gosper.
"It has been a fantastic, extraordinary, competitive World Cup. It has been compelling and enjoyable on the field, and commercially successful off it."
Read more about the Business of Rugby here.