Asian shares higher on hopes Fed will delay rate rise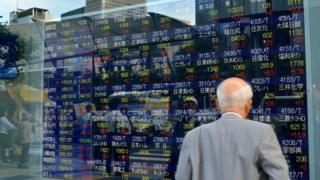 Asian stock markets were largely higher on Friday as investors continued to hope the US Federal Reserve would delay its decision to raise its rates.
Japan's benchmark Nikkei index closed up 1.08% at 18,291.80 points.
A weaker yen against the dollar also helped to lift Japan's market.
The dollar was buying 119.12 yen in Tokyo trade, up from 118.88 in New York. A weaker yen gives a boost to Japan's big manufacturers as it makes their products cheaper to buy overseas.
Elsewhere in Asia, Hong Kong's Hang Seng index closed 0.8% higher at 23,067.37, while on the Chinese mainland the Shanghai Composite rose 1.6% to 3,391.35.
Analysts said that investors were continuing to hope for new stimulus moves from Beijing after disappointing economic data from the mainland this week.
"Chinese equity markets are starting to see some solid gains again," said IG Market's Angus Nicholson.
"The Shanghai Composite is up 9.3% since the beginning of October [and there] has been some rallies based on expectations for state-owned enterprise reform, particularly as the 13th Five Year Plan comes together."
Australia's S&P/ASX 200 index closed up 0.73% at 5,268.20 taking a positive lead from Wall Street.
Sydney-listed shares of the Anglo-Australian mining giant Rio Tinto finished down more than 1%, despite the firm reporting a rise in its iron ore production and shipments for the three months to September.
Anglo said iron ore shipments had risen 17%, although it added that production of commodities such as coal and copper had fallen.
After a choppy day of trade, South Korea's benchmark Kospi index closed down 0.15% at 2,030.26. Investors there are worried about a rising won hurting the export-led nation's big manufacturers.