House prices: Split in property values widens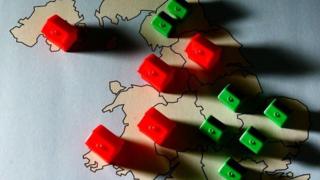 Renewed evidence of a north-south divide is emerging in the pace of house price movements in England and Wales, Land Registry figures suggest.
Three areas - the North East of England, the North West, and Wales - saw house prices rise by less than 1% in the year to the end of August.
In contrast, property prices went up by 8.4% in the East of England, and 7.6% in the South East.
Regionally, average prices range between £100,000 and nearly £500,000.
Between July and August, prices fell in the North West, Yorkshire and the Humber and the East Midlands.
Jonathan Hopper, managing director of the buying agents Garrington Property Finders, said: "England's property market is returning to type. Prices in London and the South East continue to march relentlessly upward, while in the North West the dramatic month-on-month fall has all but eradicated the gains made over the past year.
"Even as the number of transactions continues to fall, the north-south divide is reasserting itself with a vengeance."
Previous figures from the Registers of Scotland showed that Scottish house prices in July were 3.5% higher than the same month a year earlier.
House price calculator
Use our calculator to see where you can afford to rent or buy
Price contrasts
Overall, prices in England and Wales rose by 0.5% in August compared with July. Annually, prices rose by 4.2%, the Land Registry figures show.
That took the cost of the average home to £184,682. This masks a wide range of typical property values, with the average home in London costing £493,026 and the average home in the North East of England costing £100,943.
The sharpest rise in prices in August compared to July was the 1.7% increase in London.
The city is home to a large buy-to-let market, and on Friday the Bank of England warned that mortgage lending in this area had the potential to "amplify" a housing boom-and-bust, and risk stability in the UK economy as a whole.
Lending in the buy-to-let sector has risen by 40% since 2008, the Bank's Financial Stability Committee said.
Some pressure groups and charities have called for house building programmes to assist first-time buyers.
"The autumn spending review is the government's last chance to show they are serious about giving millions of people a fair shot at a stable future by investing in the genuinely affordable homes they desperately need," said Campbell Robb, chief executive of Shelter.
Regional house price changes
Region
Monthly change
Annual change
Average price
London
1.7%
6.6%
£493,026
South West of England
1.1%
5.4%
£194,088
South East of England
0.8%
7.6%
£254,658
West Midlands
0.6%
3.2%
£140,417
East of England
0.5%
8.4%
£210,042
North East of England
0.5%
0.4%
£100,943
Wales
0.2%
0.9%
£118,899
East Midlands
-0.2%
3.5%
£136,243
Yorkshire and the Humber
-0.3%
1.2%
£123,063
North West of England
-1.4%
0.2%
£113,732
Source: Land Registry, England and Wales, August 2015