NatWest Bank solves IT problem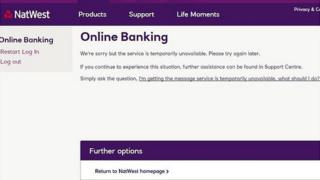 NatWest Bank says it has fixed problems with its online banking system.
Customers had been using social media on Monday morning to complain about problems accessing both the bank's web and app services.
NatWest said the issues around the lack of services had been resolved after one hour, and apologised "for any inconvenience caused".
The problem came three days after NatWest and HSBC experienced issues with their payments system.
NatWest said at the time that Friday's problems "did not originate" with itself.
Last month, NatWest said it was the target of a series of deliberate cyber attacks that meant customers could not access the bank's online systems.