Bullying at work affects one in three, survey says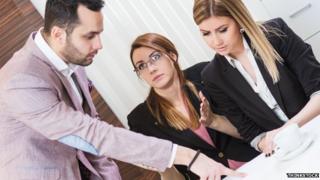 More than a third of employees believe they have been bullied in their workplace, according to research for a UK law firm.
The survey - for solicitors Slater and Gordon - found that 37% of those questioned had been a victim of such behaviour.
A further 21% said they had witnessed colleagues being bullied.
The TUC said staff affected were more likely to take time off, and would be less productive at work.
The most common forms of bullying were reported to be rudeness, bitchy or gossiping behaviour, and humiliation in front of colleagues.
Others mentioned shouting, finger-pointing and swearing.
About a third of those affected said they did nothing about it, often because they were worried about losing their job, or hurting their career prospects.
The TUC said that office bullies should be "banished from the workplace".
"Every organisation needs to have an anti-bullying policy, and every manager should ensure that there is zero tolerance of bullying either by line managers or workmates," said TUC general secretary Frances O'Grady.
The research was based on the responses of 2,000 people to an online survey.