India's Snapdeal raises $500m from international investors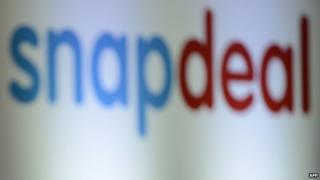 India's e-commerce company Snapdeal says it has raised $500m (£310m) from international investors for expanding its online marketplace.
Among the backers are China's Alibaba, Taiwan's Foxconn and Japan's SoftBank.
US company eBay though, one of the early supporters of Snapdeal, announced it was selling its stake to boost its own business in the country.
In the Indian e-commerce sector, Snapdeal competes with rivals Flipkart and Amazon for market share.
According to Snapdeal, existing investors Temasek, BlackRock, Myriad and Premji Invest have also participated in the funding round.
In 2014, the company had already raised some $627m in investment from Japanese technology giant SoftBank, coming on top of the $350m previously raised since the company's founding in 2010.
US research company CB Insights puts Snapdeal's current valuation at $2.5bn, making it the second largest venture-funded startup in India after Flipkart.
Like its rivals, the company sees the majority of its business on smartphones and mobile devices.