Click-and-collect rail station plan revised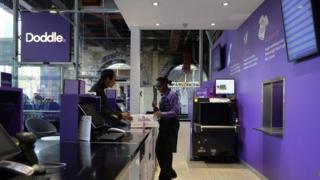 A click-and-collect company which announced a major deal with Network Rail is to open fewer parcel collection points at stations than planned.
Doddle now wants to recruit people to use their own homes as pick-up points for internet shopping.
Its chief executive, Tim Robinson, said it would recruit "agents" to hand parcels to neighbours.
In 2014, the company announced plans to open 300 collection points at stations following a deal with Network Rail.
Speaking on Radio 4's You & Yours, Mr Robinson said he now expected to open about 150 stores over the next few years.
Doddle found the product was successful in big urban railway stations, with a combination of daily commuters in the morning and evening and people who lived near the stations.
"What we're finding is consumers are not prepared to walk far off the beaten track to collect their parcels," Mr Robinson said.
"I think some of the assumptions we had in our original business model that we could be 100 yards to the right outside a railway station have not really played out.
"So for us now it is about trying to find the right sites in the right locations at the right stations that we know are going to work."
Doddle currently has 35 outlets and has already diversified into university campuses and shopping centres.
It will soon start a five-week trial of neighbourhood agents who work from home and have to be available four nights a week between 18:00 and 22:00 to hand over parcels. These would be overseen by a local manager.
"Already Royal Mail will deliver something that was heading to your home to the next best person they can find. It's about formalising that and offering people the chance to earn a bit of money and play a role in their community," Mr Robinson said.
"We are not moving away from railway stations and shops. We are going to push on and open more and more stores but it is about giving consumers another option."
Retailer John Lewis recently announced that it would start charging a £2 fee for click-and-collect purchases costing less than £30, after finding that its current free model was unsustainable.