Supermarket price war 'hitting food supply firms'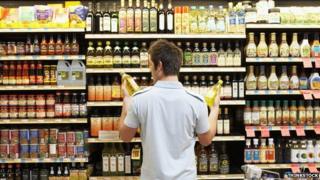 Food suppliers and farmers are being increasingly squeezed by a bitter supermarket price war, according to a report.
The number of suppliers in significant financial distress has risen 54% since last year, according to insolvency specialists Begbies Traynor.
Small firms are bearing the brunt of supermarkets' efforts to try to regain customers from discounters.
Supermarkets have also continued to make late payments, the firm said.
'Savage landscape'
In the second quarter this year, 1,622 food suppliers were struggling to make ends meet, up from 1,052 at the same period last year.
Of those, 89% were small suppliers, said Begbies Traynor retail expert Julie Palmer.
"Unfortunately the retail environment is set to become even bleaker for the UK's small food suppliers who are facing the harsh reality that price slashing is not just a short term pain but something that's here to stay," she said.
"SME [small and medium-sized enterprises] food suppliers are bearing the brunt of the supermarkets' drastic turnaround strategies and the new savage landscape in the UK retail food industry," she added.
Supermarkets have successfully changed their businesses by reducing product ranges, and by moving away from bulk-buy offers.
However, supplier margins have been squeezed, and some supermarkets still take more than a month longer than agreed to settle debts with suppliers, Ms Palmer said.
In addition, the number of struggling UK food retailers has also increased 38% to 5,258. Of those, 97% were small businesses.
Begbies Traynor uses financial data to look at firms in the sector that have traded for more than a year. It says a company is in "significant distress" if it has a county court judgement against it of less than £5,000, or if it has a poor credit score.
Part of the pressure on food makers comes from supply agreements with big buyers, which can involve large discounts, slow payments or demands for rebates.
However, the British Retail Consortium (BRC) said that complaints to grocery watchdog the Groceries Code Adjudicator had fallen over the past year.
"Supermarkets are unique amongst UK food companies in that their relationship with their suppliers is strictly governed by the Groceries Code, which deals with payments issues amongst others and provides a route for businesses to complain confidentially to an independent body," said BRC director of business and regulation Tom Ironside.
"In her report published in June, the Groceries Code Adjudicator indicated that there had been a decline in the number of suppliers experiencing problems over the past year and that retailers have made progress in terms of their compliance with the Code."