Cycle insurance revenues boosted by 'Mamils'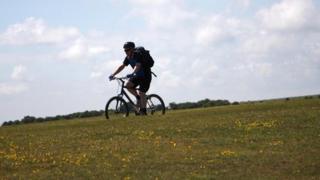 The fashion for middle-aged men spending hundreds of pounds on cycling equipment has led to a boost for the insurance industry.
Aviva, one of the UK's largest insurers, said that customers taking out additional cycle insurance rose by 75% from 2009 to 2015.
The sharpest rise was seen in 2012, when cycling was prominent in the London 2012 Olympics.
An estimated 376,000 bicycles are stolen in Britain each year.
The growth in popularity of cycling has been powered in part by the participation of well-off men. This led to the emergence of the term Mamil - middle-aged men in Lycra.
The average amount spent on buying a bike has increased, now totalling £233, according to market research company Mintel.
Aviva said that there were 29,000 cycle insurance policyholders on its books in 2009. This rose to 33,000 by 2011, before its biggest annual jump to 39,500 in 2012.
This was the year that Sir Bradley Wiggins won the Tour de France and time trial gold at the Olympics.
The number of customers with cycle insurance continued to rise, reaching 51,000 last year, Aviva said. The sharpest rises have been in the Tyne area and in Yorkshire.
Cyclists can get insurance in case of accidents through membership of organisations such as British Cycling. A number of insurers and cycling retailers also offer specialist insurance to cover theft and damage.
Experts recommend that cyclists invest in good quality D-locks to guard against theft.
An estimated 8% of the UK population aged over five cycle at least three times a week. About 100,000 more adults are riding regularly now compared with October 2012, according to British Cycling.