US stocks close higher as interest rates kept on hold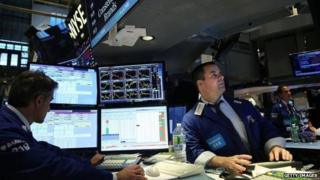 (Close): US stock markets rose as the Federal Reserve kept interest rates near zero.
Investors were cheered by the insistence from the Federal Reserve Chair, Janet Yellen, that rates would rise gradually.
The main Dow Jones index rose 31 points, or 0.17%, to 17,935.74. The wider S&P 500 closed up 4 points, or 0.2%, at 2,100.44
The tech-heavy Nasdaq climbed 9 points, or 0.18%, to 5,064.88.
Brent Schutte, market strategist at BMO Global Asset Management, said of Yellen's comments:
"She emphasized more the slow and gradual pace... than the absolute start date, which was a way of telling the market 'we're going to continue to support it.'"
On the corporate front, shares in Fedex fell 3% after it reported a loss of $895m for the three months to May.
Shares in Synergy Pharmaceuticals jumped 68% after the company announced trials for its latest constipation drug had been successful.