Waitrose launches Pick-Your-Own Offer
By Emma Simpson
Business correspondent, BBC News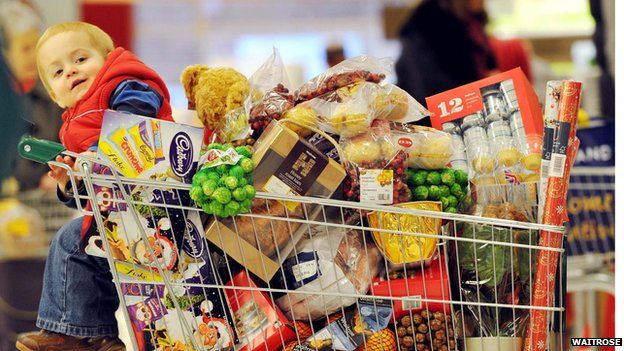 Waitrose has launched a new scheme to give customers the power to pick their own offers.
The upmarket grocers claims the "game-changing" promotion has never been done before.
Customers will be able to select ten items from a list of nearly a thousand selected from the most popular lines.
So long as they are part of Waitrose's loyalty card scheme, they will be able to claim a 20% discount on their selected items.
And the discount applies even if the items are already on promotion. Customers will then be locked into their choices for a set period.
The boss of Waitrose, Mark Price, says it's a ground-breaking move giving customers the power to choose the offers they want.
"Different forms of personalised marketing have been around since the 1990s, but we're introducing mass customisation in grocery. Customers can choose what's valuable to them when they shop for groceries. We really are giving power to the consumer," he said.
All the supermarkets are grappling to come up with new ways to entice shoppers through their doors.
Morrisons launched its first loyalty card last year, where shopper's purchases would automatically be price matched against similar products sold at Aldi and Lidl, as well as its bigger rivals.
Unlike Morrisons and the other three main grocers -Tesco, Asda and Sainsbury's - Waitrose continues to grow sales at the premium end of the market.
This latest move shows it is not immune from the huge increase in competition. As ever, the devil is in the detail.
One thousand items to choose from sounds a lot, but a typical large supermarket will sell in the region of 30,000 products.
Waitrose clearly thinks it's got a new winning formula to drive sales.
Retail analyst Clive Black from Shore Capital says the Pick-Your-Own Offers scheme will throw the cat amongst the "promotions pigeons" - a reference to the often confusing array of promotions on offer in our supermarkets.
"In essence, many shoppers do not trust promotions," he says.
"Clearly, in tying the personalised promotions to myWaitrose shoppers only, the retailer is seeking to effectively manage the cost of this initiative. That said, we believe that this is quite an inspirational move by management that could strike a chord with its shoppers and, perhaps, non-loyalists too; so there could be a spike in myWaitrose membership. "
Mr Price acknowledged that the scheme could cost Waitrose a lot of money - as much as £5m a week depending on how many people sign up.
The offer will work in conjunction with the retailer's price match scheme as well as other in-store promotions.
Waitrose is hoping this move will build sales, loyalty and trust. The rest of the industry will be watching with interest.