Airport expansion plan faces court room battle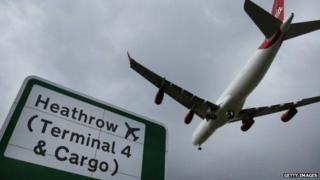 At a conference in November, Willie Walsh, the chief executive of International Airlines Group which owns British Airways, said that he did not hold out much hope that a new runway would ever be built in south-east England.
"Maybe I am cynical, but I remain totally convinced that nothing will actually happen," he said.
A year earlier he had been equally gloomy.
"There will not be another runway at Heathrow in my lifetime. It's too difficult politically," he said.
In the next few weeks, the Airports Commission is due to hand its final report to the government - recommending runway expansion at either Heathrow or Gatwick.
But even that significant moment in the fraught debate on airport capacity is unlikely to leave Mr Walsh feeling any more confident.
Today, a group of residents in south-west London launched an application for a judicial review of the Airports Commission's work.
Long grass beckons?
It is first legal challenge to the commission's work. And speaking to members of the Teddington Action Group, they certainly believe it will be the first of many.
Each will delay the commission's findings being implemented - if the government even agrees to them in the first place.
My colleague Richard Westcott wrote about another legal challenge expected by the Campaign for the Protection of Rural England.
And Gatwick has also said it is already considering its legal options should the commission back Heathrow.
Many believe the long grass beckons for the commission's work - and that's before it has even published its final report.
The residents' claims rest on two points and were formulated following advice from senior counsel.
First, is the recent commission consultation on air quality which ran from 8 May to 29 May.
"Not long enough" the residents of Teddington claim.
The second is the suggestion that Sir Howard Davies, the head of the commission, is now facing a conflict of interest.
The residents' action group says that following the announcement that Sir Howard is to take up the reins as chairman of the Royal Bank of Scotland, his position at the commission could be questioned.
RBS banks for both Heathrow and Gatwick and therefore, the residents group says, has a commercial interest in the outcome of the commission's review.
"Teddington residents suffer up to 17 hours a day of aircraft noise and pollution, made worse by recent air space changes," Paul McGuinness, spokesperson for Teddington Action Group, said of the first part of the claim.
"The lack of proper engagement by the commission in relation to the latest air quality consultation is unacceptable and local people should be consulted in a meaningful way on an issue that directly impacts their health and wellbeing."
Robust response
The action group claims the consultation should have lasted far longer as it was based on a technical document which ran to 200 pages.
Cabinet Office guidelines suggest three months for controversial consultations, the campaigners say.
They also argue that London air quality will not meet European Union standards by 2030 "even without a third runway" and that they were not given a "fair chance" to have their say.
My sources close to the commission say that any legal challenge can expect a robust response and that they are "happy" with the legal advice they have received from their internal lawyers on both the commission's processes and Sir Howard's position.
They also point out that in 2013 the commission successfully fought off a judicial review by pressure group Stop Stansted Expansion.
The commission is likely to have to fight a few more similar battles before this fraught process is completed.