Andy Murray to advise crowdfunding firm Seedrs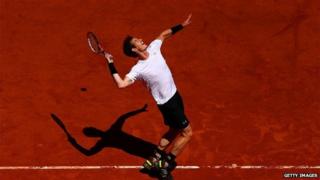 UK tennis star Andy Murray has teamed up with crowdfunding firm Seedrs, to advise on businesses related to sport and wearable technology.
Crowdfunding is a way of raising money through lots of small investments from a large number of people, not necessarily professional investors.
Murray said he had "always been interested in investment" and that helping UK start-ups appealed to him.
He recently purchased the Cromlix Hotel near Dunblane, where he was born.
'Different perspective'
The two-time Grand Slam champion has committed to investing a "substantial amount" of his own money, as well as joining the advisory board, a spokesperson said, but details of how much he was putting in were not disclosed.
He has already invested in several Seedrs start-ups.
Seedrs chief executive and co-founder Jeff Lynn said: "We believe he can bring a different perspective into certain aspects of the early-stage business community in the health, sport and wearable technology spaces."
Murray is currently ranked number three in the world and has just reached the semi-finals at the French Open.
He is the reigning Olympics champion in singles, and has also won the US Open and Wimbledon titles.