Hanergy says in 'good financial' position despite share plunge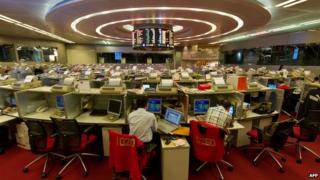 The parent of Chinese solar panel manufacturer Hanergy Thin Film Power said the firm is in good financial condition despite its Hong Kong-listed shares nearly halving on Wednesday.
Shares of the subsidiary were halted from trading after dropping 47%, wiping out $18.6bn (£11.9bn) from its market capitalisation.
Hanergy Group said it had not sold any of its 30.6 billion shares in the firm.
But the group did not address reports that the firm is being investigated.
Reuters had reported that the solar panel company was being investigated by Hong Kong's securities regulator, quoting an unnamed source.
The Securities and Futures Commission (SFC) has declined to comment.
Hanergy Group, controlled by Chinese billionaire Li Hejun, issued a statement to the Hong Kong Stock Exchange on Wednesday saying its shares had been halted from trade "pending the release of an announcement containing inside information".
Local reports also said that Li, chairman of the firm, did not attend the firm's annual general meeting in Hong Kong on Wednesday.
Li has been considered one of China's richest men because of his stake in Hanergy.
In a Chinese language statement on its website, the group said it had not engaged in any financial derivative trading, using its shares in the Hong Kong listed unit.
The company lost half of its market value of nearly $40bn in 24 minutes on Wednesday.
Its shares had risen five-fold since September before the sell-off began.
Market speculation
Nicholas Teo, market analyst at trading firm CMC markets said he had noticed the dramatic drop in Hanergy's shares right away because it had everyone "scratching their heads".
"The company was very quick to call a halt to the trading, but without any news, there is plenty of speculation and potentially room for further reaction to the downside if the trading suspension is lifted," he said.
"Even after the drop though, Hanergy's shares are basically twice as expensive as some of the firms in that sector."
David Kuo, chief executive of The Motley Fool Singapore backed the view that Hanergy shares were overvalued.
"Hanergy is involved in the much-hyped solar-panel industry. Investors are paying $50 for every dollar of profit the company makes," he said.
"When expectation overtakes reality, reality eventually wins. The market is experiencing a dose of reality."
Another sell-off
Following the dramatic move in Hanergy's share price, on Thursday shares in two companies owned by Hong Kong billionaire Pan Sutong slumping by as much as 60% in Hong Kong.
Shares in Goldin Financial and Goldin Properties eventually closed down more than 40%.
Goldin Financial's shares, which is 70%-owned by Hong Kong billionaire Pan Sutong, had jumped by more than 400% between September 2014 and March this year.
The firms said they were not aware of the reason behind the big fall in the share prices.
However, Reuters reported that a Hong Kong stock exchange filing showed Hanergy Thin Film Power had appointed Goldin Financial Holdings as a financial adviser in February.
Goldin was appointed to advise Hanergy on a deal where it would supply solar panels to its parent company.