Asda gloomy about 'challenging' 2015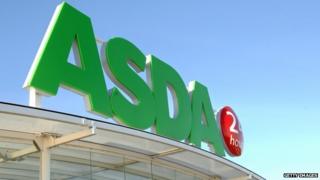 Supermarket chain Asda says that 2015 could be the most "challenging year yet" for the big supermarkets.
Asda's year has already got off to a weak start with a 3.9% fall in like-for-like sales in the first quarter.
The chain is owned by US giant Walmart, which posted a 7% fall in first-quarter net income to $3.34bn (£2.16bn).
Total sales were $114.83bn in the first quarter, down slightly from $114.96bn made in the same quarter a year earlier.
Weakness at its international businesses contributed to Walmart's slow quarter.
'Unprecedented quarter'
Conditions in the UK grocery market are particularly gruelling, with all of the big four chains struggling.
Last year, Tesco reported a 3.2% fall in sales, excluding fuel and a record loss, and made a big cut to the value of its properties.
At Sainsbury's like-for-like sales fell 1.9% last year, while like-for-like sales at Morrisons fell 2.9% in the first quarter.
But with a 3.9% decline in sales, Asda appears to be suffering even more than its rivals.
"This last quarter has been unprecedented. We have seen deflation in the market and exponential shifts in the industry," said Asda chief executive Andy Clarke.
He does not expect much improvement in the year ahead.
"Despite signs of a real and sustainable economic recovery, 2015 is setting itself up to be the most challenging year yet for traditional supermarkets.
"Customers are not yet cash-confident, preferring to save rather than spend and, as expected, the market remains turbulent," he said.
Challenging times
Walmart said that its weaker profits were partly due to unfavourable currency movements.
But like many big retailers, Walmart has been struggling with changes in the shopping habits of its customers.
Neil Saunders, managing director of retail research firm Conlumino, said: "Many consumers are prioritising convenience, both in terms of getting to the stores easily but also in terms of being able to shop the format quickly and efficiently.
"This is something that Walmart's larger stores do not always deliver."
Mr Saunders also said that Walmart would need to invest in its online offering.
In a statement with the first quarter results, Walmart chief executive Doug McMillon said: "We had a solid first quarter... we need to continue to get better at consistently running great stores, clubs and e-commerce everywhere we operate."