Bank of England wants an artist for £20 note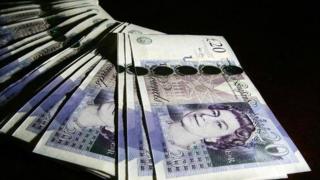 The image of a visual artist will appear on the next version of the £20 note - and the Bank of England wants the public to make nominations.
The banknote, which will enter circulation in the next three to five years, currently features the economist Adam Smith.
The Bank is asking the public for suggestions of artists ranging from painters to furniture makers.
But the Bank will want to avoid a repeat of previous equality complaints.
It faced criticism after the planned replacement of campaigner Elizabeth Fry on the £5 note with Winston Churchill, which left it facing the prospect of no women being used on banknote images apart from the Queen.
This was solved when author Jane Austen was announced as the image on the next £10 note.
---
Analysis: BBC arts and entertainment reporter Mark Savage
The Bank of England has come under pressure to represent more women on its banknotes - but the visual arts are not notorious for gender equality.
Georgia O'Keeffe was the only female artist in the top 50 auction sales, ranked by price, last year.
Even when the field is opened up to include fashion designers, architects, ceramicists and designers, the prospects do not improve drastically.
Barbara Hepworth is one obvious candidate but the likelihood is that a male artist will take the spot. William Hogarth, JMW Turner and Isambard Kingdom Brunel are all in contention. The public has two months to sway the vote.
---
Who to pick?
The public will be asked to nominate an artist to be considered for the banknote before 19 July.
They can include artists, sculptors, printmakers, designers, craftspeople, ceramicists, architects, fashion designers, photographers and filmmakers.
Speaking at the Victoria and Albert Museum in London, the governor of the Bank, Mark Carney, said people should consider artists "beyond the most obvious and most famous" but they must also be "beyond the grave".
"There are a wealth of individuals within the field of visual arts whose work shaped British thought, innovation, leadership, values and society and who continue to inspire people today," he said.
This will then be considered by a committee which, taking into account worthiness, equality and diversity, will whittle down the list to between three and five.
The Committee is chaired by the Bank's deputy governor Ben Broadbent, and includes chief cashier Victoria Cleland and independent experts Sir David Cannadine, Baroness Lola Young of Hornsey and Sandy Nairne. Three visual arts experts will also join for the £20 note decision - John Akomfrah, Alice Rawsthorn, and Andrew Graham-Dixon.
The final decision will then be made by Mr Carney, with an announcement in the Spring of 2016.
Who's been on Bank of England notes?
Famous Briton
Lived
Field
Note
Note from
Isaac Newton
1643-1727
Scientist
£1
1978-1988
Duke of Wellington
1769-1852
Soldier and statesman
£5
1971-1991
George Stephenson
1781-1848
Engineer
£5
1990-2003
Elizabeth Fry
1780-1845
Campaigner
£5
2002-present
Florence Nightingale
1820-1910
Nurse & campaigner
£10
1975-1994
Charles Dickens
1812-1870
Writer
£10
1992-2003
Charles Darwin
1809-1882
Scientist
£10
2000-present
William Shakespeare
1564-1616
Writer
£20
1970-1993
Michael Faraday
1791-1867
Scientist
£20
1991-2001
Sir Edward Elgar
1857-1934
Composer
£20
1999-2010
Adam Smith
1723-1790
Economist
£20
2007-present
Sir Christopher Wren
1632-1723
Architect
£50
1981-1996
Sir John Houblon
1632-1712
Banker
£50
1994-present
Matthew Boulton and James Watt
1728-1809, 1736-1819
Entrepreneur and inventor
£50
2011-present