AOL - the internet survivor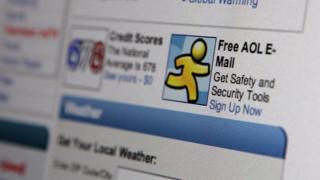 AOL, the firm which told you "you've got mail" and delivered more CDs to your door than Amazon, is being bought by Verizon.
The deal values AOL at $4.4bn (£2.8bn), a long way from the mammoth $222bn price tag the company attracted 16 years ago during a boom in the share prices of technology firms.
AOL started life as Quantum Computer Services, which first provided an online service for the Commodore 64 computer system in 1985.
The company built up its position as one of the largest internet providers, gobbling up browser company Netscape and competitor CompuServe.
Then came AOL's purchase of Time Warner in a deal valued at more than $160bn in 2000. Nine years later, Time Warner reversed the acquisition and AOL began to reinvent itself as a media company with former Google advertising executive Tim Armstrong at the helm.
Bebo sale
Mr Armstrong had "a lot of critical things on his side", says Robert Coolbrith, an analyst at CRT Capital. Even as the company's share price shrank, it kept advertising technology from its days of being an internet service provider, he says, including that from Advertising.com, which it bought in 2004 for $435m.
Time Warner wasn't AOL's only regrettable deal. In 2010, it sold Bebo, the social networking site it bought two years earlier for $850m.
Criterion Capital Partners, a small private investment firm, announced that it had bought the business, but did not disclose the amount paid. Analysts at the time suspected it to be just a fraction of the price paid by AOL in 2008.
Bebo struggled to compete against social networking giant Facebook.
AOL's better deals include buying technology site TechCrunch in 2010. The following year it acquired Arianna Huffington's eponymous Huffington Post news aggregation site for $315m.
Now, the company will become part of the US's largest data carrier.
Andrew Frank, an analyst at research company Gartner, said: "It's a bold move by Verizon."
Data carriers like Verizon "want to seek a greater role than being dumb pipes", he added.
'Arms race'
What may be most attractive to Verizon is AOL's abilities in advertising, where it can provide an "end-to-end" service like market-leader Google, Mr Frank says: "There's more potential in the advertising side of the business."
More regulation is pushing companies like Verizon towards entertainment and advertising.
But what does it mean for the rest of the market - and will this trigger a buying spree for mobile internet carriers?
Mr Frank says: "I do think it signals a potential arms race among large carriers" like Verizon.
Smaller internet advertising companies may be seen as targets, he says.
But not everyone is convinced. "We feel that Verizon paid a hefty price," Macquarie Capital analysts wrote in a note to clients. The company is worried about its main mobile data business as it needs more and more radio bandwidth to accommodate the demand for mobile video, they added.
Whether that is the case will be clear if and when the two companies can make best use of each others' expertise, says Mr Frank.
If Verizon is able to use its data on customers' location and browsing habits with AOL's advertising technology, he believes it will have the best chance of making the deal work.