UK house prices up 1.6% in April, says Halifax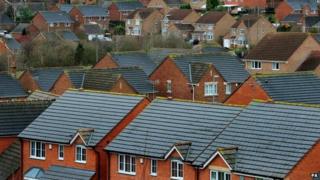 House prices rose 1.6% last month, according to the latest survey from the Halifax, with the annual rate of increase rising slightly to 8.5%.
The increase means the average house price has risen to £196,412.
On the quarterly measure, often seen as more dependable than monthly change, the Halifax said prices rose by 2.2%, the slowest rise since January.
It said demand for homes was supported by the improving economy, rising employment and low mortgage rates.
At the same time, it said supply remained "very tight" with a general shortage of properties for sale.
However, the lender said it expected the annual rate of increase to have slowed by the end of the year.
It noted that house price rises were continuing to outstrip increases in average earnings.
"The resulting rise in the level of house prices in relation to earnings should constrain house price growth and activity over the remainder of the year," said Martin Ellis, Halifax's housing economist.
"The annual rate of house price growth is forecast to end the year at 3-5%."
However, some economists believe prices are set to rise faster.
"We suspect that housing market activity is now turning around gradually after losing appreciable momentum from the early-2014 peak levels, and we see activity picking up modestly over the coming months," said Howard Archer, the chief UK and European economist with IHS Global Insight.
The latest survey from the Nationwide also found price rises picking up.
Prices rose 1% in April, the Nationwide said, lifting the annual pace of growth to 5.2%.
House price calculator
Use our calculator to see where you can afford to rent or buy