UK house prices resume upward trend, says Nationwide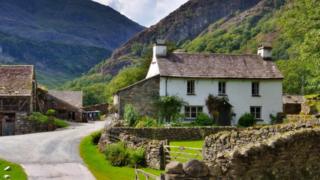 House prices across the UK are resuming an upward trend, according to the Nationwide building society.
Between March and April, prices rose by 1% - the largest monthly rise since June 2014.
And the annual pace of growth rose to 5.2%, the first time that this measure has risen in seven months.
The average house price is now £193,048 - the highest figure yet recorded by Nationwide and the first time prices have exceeded £190,000.
"The pick-up in price growth has occurred even though the pace of activity in the housing market has remained fairly subdued in recent months," said Robert Gardner, Nationwide's chief economist.
Capital Economics said the monthly rise was "strong" and predicted that prices would rise by 6% this year.
"Record high employment, combined with record low mortgage rates, means the conditions are in place for further price gains this year," said Matthew Pointon, property economist with Capital.
Affordability
The news from Nationwide follows reports from the High Street banks this week that the number of mortgage approvals is also rising.
The British Bankers' Association (BBA) said approvals were now at their highest level for six months, although still 14% down on their recent peak in March 2014.
In a separate report, housing charity Shelter has claimed that 80% of homes in England are now unaffordable for families on average local incomes.
It said that in London, there were only 43 homes for sale that were affordable - and four of them were house-boats.
House price calculator
Use our calculator to see where you can afford to rent or buy