HSBC gives FTSE 100 renewed boost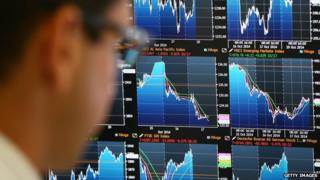 (Close): HSBC continued to lift the FTSE 100 index after saying it might shift its HQ abroad.
Having seen its shares rise 2.9% on Friday, when it said it was considering moving its headquarters out of the UK, HSBC added a further 3.1% in Monday morning trading.
Standard Chartered also benefitted, rising more than 4%, the top performer on the index.
Overall, the FTSE 100 index closed up 0.47% at 7,103.98.
"HSBC investors are warming to reports that the UK-domiciled and London-listed bank is mulling a spin-off of its UK retail banking operations to ensure it remains flexible to any changes to the UK's membership in the EU," Will Hedden, a dealer at London Capital Group, said in a note.
The strong gains from the banks helped the index to hit an intra-day high earlier in the session, of 7,122.74.
Meanwhile, the pound rose 0.26% against the dollar to $1.52280 and was up 0.05% against the euro at €1.3978.