Netflix shares rise on growing subscriptions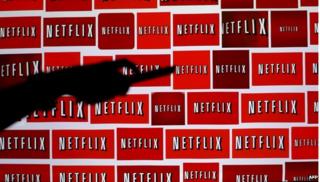 Shares in internet television service Netflix rose over 13% in after hours trading after the firm said it added a better-than-expected five million users in the first quarter of 2015.
That brings the total global subscribers to the service to 62.3 million.
Netflix also said revenue increased by 23% from the same period a year earlier to $1.57bn (£1.06bn).
Net profit was $23.7m, a slight decrease from the year before.
In a statement accompanying earnings, the company also said it would seek a share split to return money to investors.
Shares in Netflix have risen by nearly 40% since the start of this year.
However, the company has faced increasing threats as companies such as Hulu and HBO have sought to commission their own, original on demand content to compete with Netflix shows like House of Cards and Orange is the New Black.