Loaded magazine says current edition will be its last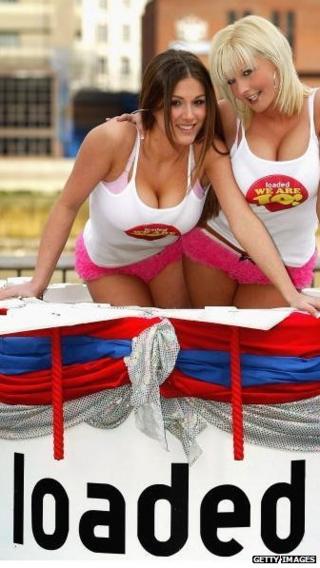 Loaded magazine, one of the so-called "lads' magazines" of the mid-1990s, is to close down, publisher Simian said.
The last-ever edition, published this week, featured musician Noel Gallagher and novelist Irvine Welsh.
Past contributors included Hunter S Thompson, Irvine Welsh and Nick Hornby.
At its peak, its diet of football, alcohol, and music brought it a six-figure readership. But as it went through several ownership changes, circulation fell.
Loaded and other "lads' mags" attracted criticism from feminists and others for the number of scantily-clad women in each edition.
In July 2014, at the time of its last relaunch, Loaded said it would be "far more discerning and sophisticated" in its depiction of women.
Announcing the closure, deputy editor Lia Nicholls said on Twitter that it was a "sad day. Loved every minute."
James Brown, one of the initial launch editors in 1994 said the news was "a pity".
He added: "The last team seemed to have made a real go of it."
---
Analysis: David Sillito, media and arts correspondent
Drinking, football, drugs, music and pictures of girls usually wearing only underwear or less, Loaded defined the "lad" culture of the 1990s. But things have moved on. Sales have in 15 years fallen from 350, 000 to around 30, 000. Its weekly rival Nuts has already gone under.
However, that does not mean the market for girls, games, gadgets and a visual mixture - of funny, revolting and humiliating pictures has died - it's just migrated to Facebook, Youtube, Twitter and hundreds of other websites.
The Lad Bible, for instance, is only three years old but is in Britain receiving (according to Alexa web analytics) more web traffic than the two leading online papers - the Daily Mail and The Guardian.
Magazine culture is dying not "Lad Culture" and you can see it every time you log on.
---