Asian giant Noble takes legal action over allegations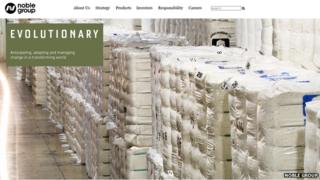 Asian commodities trading giant Noble Group has said it will launch legal proceedings over allegations made against the firm.
The move comes after little-known blog Iceberg Research released a series of reports over its accounting practices, claiming it inflated profits and understated its debt.
Noble will file legal proceedings in a Hong Kong court on Monday, it said.
The company's shares have fallen as much as 30% in the wake of the reports.
But in reaction to news of its legal move, Noble's Singapore listed shares were up 4% in early trade.
Allegations made
Iceberg Research released its third report on Noble on Saturday, saying the trading house had substantially understated its gross and net debt.
This follows a report released in mid-February accusing the Hong Kong based firm of using "accounting loopholes".
Noble, one of Asia's biggest commodity traders, called the claims "inaccurate, unreliable and misleading".
Iceberg's "actions, and their timing, have been calculated primarily to inflict damage rather than to facilitate the distribution of research", Noble added in its statement.
The firm has said that a former employee dismissed in 2013 was behind the reports from Iceberg.
On Monday, Noble said it would launch legal action for conspiracy to harm the group.
Nicholas Teo, market analyst at CMC markets said the third report from Iceberg is perhaps the "most direct assault" on the firm.
Nobles' shares have lost as much as $1.8bn (£1.2bn) in market value after the accusations, according to Reuters news agency.