UK government borrowing down 34% on seasonal tax payments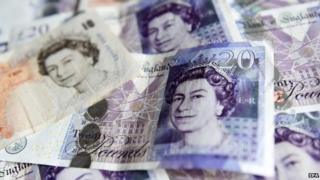 Britain's public finances improved in February, leaving government borrowing down a third on a year earlier.
Figures from the Office for National Statistics (ONS) showed tax receipts from self-assessment were £4.2bn, up £1.8bn on last February.
January and February are the months when taxpayers who have not made full payments under PAYE make the bulk of their payments to the Revenue.
February's government borrowing totalled £6.9bn, a fall of £3.5bn.
That figure excludes the effect of bank bail-outs.
The government's latest target to borrow £90.2bn in the current fiscal year looks likely to be achieved, but it has failed in its plans to eliminate the deficit by 2015.
On Thursday, ratings agency Fitch warned it was unlikely to restore Britain's top-notch credit rating until it saw proof that government debt-to-GDP was falling steadily.
National debt
The Office for Budget Responsibility (OBR), which analyses government spending, reduced its borrowing target for the 2014-15 fiscal year to £90.2bn in its latest forecast. That was published alongside the Budget earlier this week.
"With one month of this fiscal year still to go, borrowing looks set to come in at about £89bn, nearly £10bn lower than last year and a touch below the OBR's forecast of £90.2bn in the Budget," said Samuel Tombs of Capital Economics.
The ONS admitted it got some of its calculations wrong when it came to the national debt.
It added £5.5bn compared with October's estimate to the national debt after "double counting bank deposits" held by UK Asset Resolution, the government company which owns old Bradford & Bingley and Northern Rock assets.
However, various other adjustments, including a decrease in the bond liabilities of Network Rail, meant the addition to the debt was only £2.7bn.
Underlying debt last month - excluding public sector banks - was £1.468 trillion, or 79.6% of gross domestic product, up from 78.4% in February last year.