Budget 2015: Beer duty cut by 1p a pint for third year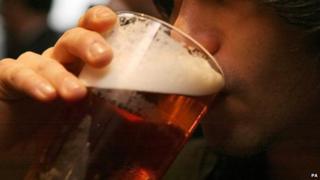 Beer duty is being cut by 1p a pint for the third year running, Chancellor George Osborne announced.
The last two years' penny-a-pint cuts helped create 16,000 jobs in the brewing industry, he said.
Duty on cider and spirits such as Scotch whisky will be cut by 2%, "to back one of the UK's biggest exports", he said, and wine duty will be frozen.
Drivers were cheered by the cancellation of the fuel duty escalator for the fifth year running.
Mr Osborne said the freeze on fuel duty would result in "£10 off a tank with the Tories".
"I want to make sure that the falling oil price is passed on at the pumps," he said.
Further help for drivers came in the form of a reduction in toll rates charged on the Severn bridges linking England and Wales. The higher band for small vans and buses will be abolished from 2018, he said.
This will see the toll rate fall from £13.10 to £5.40 - the same as for cars.
Going up in smoke
Duty on tobacco will remain subject to its existing 2%-above-inflation increase.
"I have no changes to make to the duties on tobacco and gaming already announced," said Mr Osborne.
This means the price of a packet of 20 cigarettes will go up by 16p from 6pm, while the price of 25 grams of hand rolling tobacco will also go up by 16p.
Coalition Budget
£11,000
tax free allowance by 2017
£43,300
40p tax threshold by 2017
1p off duty on a pint of beer

2% cut in whisky and cider duty

£1,000 tax free on savings
Thinkstock
Reacting to the reduction in beer duty, Brigid Simmonds, chief executive of the British Beer & Pub Association, said: "The chancellor really is a 'hat-trick hero'. His third, successive beer tax cut shows he has listened to consumers, publicans and brewers.
"Beer tax is now ten pence lower than it would have been under the beer duty escalator, which he abolished."
The cut would help create 3,800 jobs this year and "put £180m in the pockets of beer drinkers and pubgoers," she said.
The move was also welcomed by the Society of Independent Brewers.
"This is a great day for British independent brewers, pubs and consumers," said managing director Mike Benner.
Alcohol misuse
Andy Fyffe, leisure expert at consultancy EY, said: "Following the reductions in 2013 and 2014, volumes of beer sold in the UK increased year on year for the first time in a decade, helping to alleviate margin pressures experienced in recent years, boosting profits and ultimately protecting and growing employment.
"We expect that this latest beer duty cut will have a similar impact on the sector."
But Alcohol Concern said the government had "once again cast aside the health of the nation to protect the interests of 'big alcohol".
Alcohol misuse costs the nation £21bn a year, said chief executive Jackie Ballard.
"Instead of taking serious, evidence-based action - like implementing a minimum unit price - the chancellor has given the alcohol industry the go-ahead to make even bigger profits at all of our expense.
"Until we treat alcohol misuse as the huge public health issue it is, like smoking, we will all continue to pay billions to deal with it."