Real-time online accounts to replace annual tax returns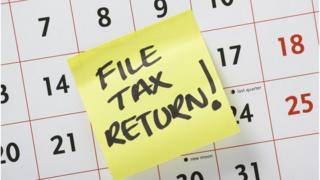 End-of-year paper tax returns will be scrapped in favour of "real-time" online accounts by 2020, Chancellor George Osborne announced.
The Budget confirmed plans to switch to "digital tax accounts" by 2020, ending the annual rush to file a tax return.
Instead, individuals and small businesses will submit accounts throughout the year via computer, tablet or smartphone.
Mr Osborne called it "a revolutionary simplification of tax collection".
People will be able to pay their tax at any point throughout the year.
They will also be able to spread the cost by paying in instalments.
Taxpayers will be given a login and password so they can submit tax information regularly, making tax bills more closely related to current performance.
The online accounts will show how your tax is calculated, as HM Revenue & Customs also updates information available to it - for example, from employers, pension providers and banks.
Businesses and individuals will be able to link their own accounting software and their bank accounts to the digital tax account, removing the need to submit an end-of-year return and paying an annual tax bill in one go.
The switch is expected to start with five million small businesses and the first 10 million individuals in early 2016.
By 2020, businesses should be able to link their accounting software to their digital tax account, so they can feed in information directly.
People who wish to continue filing an annual paper return will be able to do so.