Yodel apologises for Mother's Day delivery delays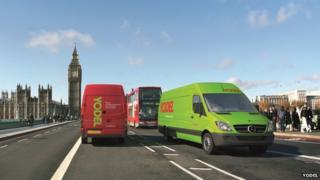 Yodel failed to deliver some Mother's Day flowers on time due to the actions of its suppliers, said the company.
Marks and Spencer, Interflora, Moonpig and Waitrose selected Yodel to deliver some of their bouquet orders.
The courier firm has been criticised in the past for failing to deliver on time and for breaking goods in transit.
Yodel said that all of its Mother's Day deliveries arrived by 18:00 on Sunday but some customers say that they are yet to receive their orders.
"We handled over 400,000 Mother's Day flower deliveries for a number of retailers over the Mothering Sunday weekend, in addition to our normal parcels," said Yodel.
"A small number of Saturday deliveries encountered delays and we would like to apologise to anyone whose delivery was affected.
"This was due to a combination of issues, including problems that flower suppliers had in getting the flowers to us on time and retailer incorrect labelling issues."
'Something has gone wrong'
All of Yodel's Mother's Day orders had been delivered by 6pm on Sunday, said Yodel. However, some customers are still waiting for their deliveries.
An email sent by Marks and Spencer earlier today and seen by the BBC appeared to admit outstanding problems: "It's not the quality of service which you have a right to expect from M&S.
"Something has gone wrong at this time, and for this we sincerely apologise. You will receive your order today if you have not done so already."
Some affected customers have had their purchases refunded and received a £15 voucher.
Marks and Spencer uses Yodel to deliver only orders of flowers, it said, and has "no current plans to change [courier]".
Interflora, which also used Yodel, said: "We were advised of some delivery issues on Saturday by Yodel, who assured us that any outstanding gifts would be delivered on Mother's Day itself.
"We contacted each of our customers this affected personally to advise them of the delay and resolved this with them."
The florist would not say how many orders were affected.
Complaints on Twitter
Waitrose also declined to comment on the number of orders affected by Yodel's delays.
"Out of tens of thousand of orders, only a tiny handful were not successfully delivered," said a Waitrose spokesperson.
"We've apologised sincerely to all customers who were affected and given them replacement flowers, or a full refund."
The BBC asked Moonpig about its Yodel deliveries but the company has not yet responded.
Some disgruntled customers have taken to Twitter to complain about their experiences.
"Failure to deliver for mothers day disappointing, not to mention your lack of response to complaints #poorservice," said twitter user and Interflora customer Catherine Jones.
"No delivery was not what I expected when I ordered M+S flowers," said a Marks and Spencer customer on Twitter. "Didn't make my mum feel special! Not a #HappyMothersDay."
However, online florist ArenaFlowers said that it has been satisfied with Yodel's service this Mother's Day.
It used Yodel to send tens of thousands of bouquets successfully to customers this week, said the company's chief executive, Will Wynne.
Poppies
Yodel was recently criticised after some Remembrance Day ceramic poppies were broken in transit.
The poppies were part of a display at the Tower of London to commemorate those who died in World War One.
The courier responded to complaints of late deliveries and breakages saying "our staff have been briefed to treat these packages with the utmost care".
Yodel is the UK's second-largest parcel carrier and handles more than 155 million parcels every year, according to the company.
Yodel posted a £112m loss for the year to 30 June 2013.
The Barclay brothers bought Yodel in December 2012 and refinanced the company's debt with HSBC.
This fuelled accusations of bias in the Daily Telegraph's coverage of HSBC, as the Barclay brothers also own the newspaper.