China probes chairman of auto giant FAW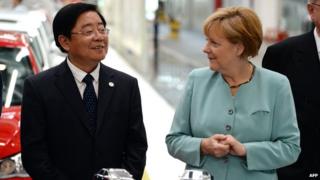 China is investigating the chairman of one of its biggest state-owned automakers, the Communist Party's corruption body said.
Xu Jianyi, chairman of China FAW Group, was being investigated for "serious" discipline violations - wording that generally implies a corruption probe.
The announcement was made on the party's discipline inspection website.
Mr Xu is the latest in a series of high-profile figures targeted in the government's crackdown on corruption.
FAW Group, the parent company of Faw Car, has joint ventures with auto giants Volkswagen, Toyota and General Motors in China - the world's biggest auto market.
News of the investigation against Mr Xu sent shares of Shenzhen-listed Faw Car down by as much as nearly 6% on Monday.
The 61-year-old chairman is also a member of the Communist Party, in a post equivalent to a cabinet vice minister.
In the announcement, the government also said it was investigating the 58-year-old deputy head of the party in southwestern Yunnan province - Qiu He - for the same charges.
A number of senior officials have been taken down in a campaign led by President Xi Jinping on corruption since he took over as the head of the party in 2012.