Whiplash insurance claims near record levels, says Aviva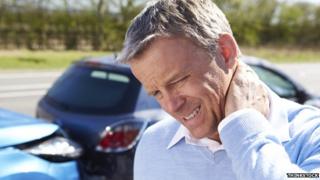 The number of motorists making claims for whiplash injuries has soared again, according to Aviva, the UK's largest insurer.
It warned that injury claims are expected to top 840,000 this year - up 9% on 2013/14, and a near-record level.
Aviva said the UK's "compensation culture" was to blame, with too many claims still fraudulent or exaggerated.
Previously the problem had been improving, as a result of new rules brought in by the government.
Aviva said that whiplash claims were now on the rise again, and that premiums - which were previously falling - would go up.
It said that motorists were already paying an extra £93 a year, because of such claims.
Aviva also said that the situation in the UK is in marked contrast to other European countries.
For example, 80% of motor injury claims in the UK now include whiplash, compared to just 3% in France.
New rules
According to its own figures, Aviva found that 96% of personal injury claims in 2014 were brought by third parties, like claims management companies or lawyers, rather than by the individuals affected.
"We must address how best to treat the excessive number of fraudulent, exaggerated and minor whiplash claims, which are driving up the cost of insurance," said Maurice Tulloch, the chief executive of Aviva's UK general insurance business.
He said that previous rules brought in by the government had helped, but that more needed to be done.
The Legal Aid, Sentencing and Punishment Act (LASPO), which became law in April 2013, banned referral fees paid by lawyers, and limited the amount they could charge for handling whiplash injuries.
Whiplash claims fell by 19% as a result, according to the Institute and Faculty of Actuaries.
New rules were also brought in in October 2014 which limit the fees that can be paid to doctors for whiplash reports.
Treatment
However Aviva is now calling for further action, including:
Reducing the limitation period, so that all whiplash claims have to made within 12 months of the accident, instead of three years
Claimants' symptoms should last longer than three months, as evidenced by medical records
Insurers should provide treatment to the injured party, regardless of blame
Damages should be awarded according to a clear, transparent tariff
Banning of all referral fees - such as by replacement car hire companies
It says that if these rules were introduced, motorists could save £50 each on their annual insurance premiums.
The government said it had already taken action against abuses of the system.
"We have banned law firms from offering inducements to potential clients, and changed the law so that courts can throw out claims in cases involving fundamental dishonesty," said the justice minister, Lord Faulks.