TSB confirms £1.7bn takeover move by Spain's Sabadell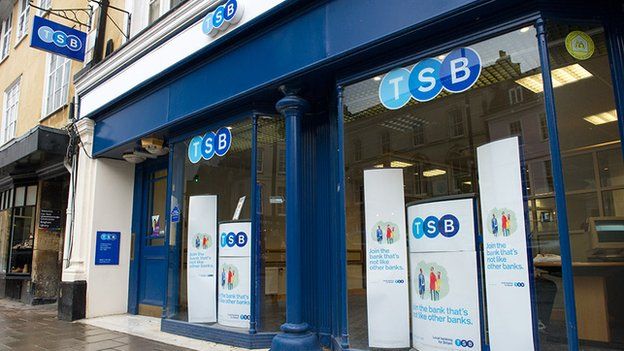 TSB has confirmed it has received a £1.7bn takeover approach from Spanish bank Sabadell.
The approach to the UK bank comes less than a year after it rejoined the stock market after Lloyds Banking Group sold off 50% of the business.
TSB said its board was willing to recommend Sabadell's 340p-a-share offer.
It said that Sabadell could support and accelerate its "retail growth strategy".
TSB said if a takeover went ahead Sabadell would continue to "operate TSB as a robust competitor in the UK banking market, building on the TSB brand name".
Shares in TSB - the UK's seventh-biggest lender - soared by more than 25% after the announcement.
Sabadell's offer for TSB is 29% higher than its price at the close of business on Wednesday.
Mike Trippitt, an equity research director for Numis Securities, said his company had put the value as high as 370p, but that the deal on the table was a good one: "For just an 8% discount to the 'blue-sky' valuation, the Sabadell proposal offers certainty and cash - today."
TSB has 8,600 staff and 631 branches. Sabadell was founded in Barcelona in 1881 and now has 2,320 branches.
Sabadell, Spain's fifth-biggest bank, plans to diversify by expanding overseas to offset sluggish growth in its home market.
Lloyds 'minded to accept'
Lloyds had been ordered to sell the bank by European regulators as a condition of its government bailout during the UK financial crisis of 2007 to 2009.
It has until the end of 2015 to sell the rest of its TSB stake.
In a statement Lloyds said it "would be minded to accept an offer at this [340p] price if it is made". Sabadell has until 9 April to make an offer.
Shore Capital's banking analyst Gary Greenwood said that a deal is likely as management appears supportive and the chances of a counter offer are low.
Trading in Sabadell's shares was temporarily suspended after the bank made its offer for TSB. Its shares fell 8.2% when trading reopened.
Related Internet Links
The BBC is not responsible for the content of external sites.