Diesel car 'demonisation' condemned by industry group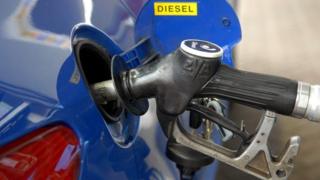 A campaign to combat the "demonisation" of diesel has been launched by the UK's leading motor industry association.
The Society of Motor Manufacturers and Traders (SMMT), along with BMW, Ford, and Jaguar Land Rover, believe fears over diesel are misplaced.
The campaign comes in response to several efforts to curb diesel cars due to the harmful pollutants they produce.
In December, the mayor of Paris called for diesel cars to be banned from the French capital by 2020.
"Today's diesel engines are the cleanest ever, and the culmination of billions of pounds of investment by manufacturers to improve air quality," said Mike Hawes, the chief executive of SMMT, in a statement.
"Bans and parking taxes on diesel vehicles therefore make no sense from an environmental point of view," he added.
But Gavin Thomson, from the Healthy Air Campaign said: "We need action from all levels of government to protect our health and substantially reduce the diesel in our towns and cities.
"This should include government supported retrofit schemes, a national network of low emission zones and support for other modes of travel."
---
Analysis: John Moylan, energy correspondent
Europe's carmakers fear a consumer backlash against diesel vehicles.
Analysts say that in the past two decades the industry ploughed billions into plants producing diesel engines and cars in an effort to cut CO2 emissions from vehicles.
Ford's Dagenham plant alone could soon be making close to a million diesel engines a year.
But other parts of the world, like the United States, didn't follow Europe's lead.
So did the big European brands including Peugeot, BMW and Daimler, back the wrong technology?
And what would be the consequences if moves to ban or restrict diesel cars were to start hitting sales?
---
Health concerns
In the past, policy makers had encouraged consumers to purchase diesel cars, as diesel is a more efficient fuel than petrol and it emits less carbon dioxide (CO2) - a big contributor to global warming.
But diesel engines emit more nitrogen oxides (NOx) than petrol cars, and these can cause health problems, such as inflammation of the airways, reduction in lung function and exacerbation of asthma symptoms.
Yet the SMMT points out that the latest Euro-6 vehicle emission standards, affecting all new cars sold from 1 September 2015, drastically reduce NOx pollutants.
Despite this, a YouGov poll cited by SMMT has found that 87% of UK adults are unaware of the latest standard, consequently blaming cars - instead of larger polluters like power stations - as the biggest cause of air pollution.
Nonetheless, the poll suggests that nearly three-quarters of UK motorists are against penalties for clean diesel cars.
Upgrading engines
In December, the Environmental Audit Committee argued that air pollution was a "public health crisis" and said diesel was now seen as "the most significant driver of air pollution in our cities".
The Committee called for the government to pay for diesel drivers to upgrade their engines or for a national scrappage scheme to take the most polluting vehicles off the road.
Over the summer, London Mayor Boris Johnson floated plans to introduce an Ultra Low Emission Zone (ULEZ) in which drivers of diesel cars would be charged about £10 to drive into central London in addition to the existing £10 Congestion Charge.
However, newer diesel vehicles that adhere to the Euro-6 emission standard would be exempt.
---
European engine emission standards
*mg/km = milligrams per kilometre
Euro standard
Date approved for new cars
Max amount of NOx for diesel engine
Max amount of NOx for petrol engine
Euro 1
31 December 1992
780mg/km*
490mg/km
Euro 2
1 January 1997
730mg/km
250mg/km
Euro 3
1 January 2000
500mg/km
150mg/km
Euro 4
1 January 2006
250mg/km
80mg/km
Euro 5
1 January 2011
180mg/km
60mg/km
Euro 6
1 September 2015
80mg/km
60mg/km
---