Budget 2015: Eyes on the prize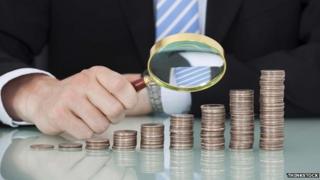 You would be mistaken if you think that Chancellor George Osborne has one eye on the general election when he delivers his Budget.
Because it won't be one, but two. He will be staring at it, without blinking, and giving it his full, undivided attention.
The election campaign will kick-off in earnest with the Budget, but that does not necessarily mean it will be packed full of measures that affect your personal finances.
Many commentators have discussed the opportunity for a pre-election giveaway, or "less of a takeaway" by easing cuts.
Yet, some of the announcements already made in Mr Osborne's previous Budgets and Autumn Statements - and coming into force next month - could prove more significant for the money in your wallets and purses.
What we already know
Among the changes already coming into force in April are changes to income tax and pensions.
Arguably the most significant is an increase in the amount of money people can earn before they start paying income tax, known as the personal allowance.
This will be raised to £10,600, adding to a number of increases over the course of the Parliament.
The future level of the personal tax allowance is likely to feature prominently in parties' election manifestos, along with other pledges on tax.
Savers
The tax on savings, which has previously stood at 10% for income of up to £2,880 will be cut to a 0% rate for savings up to £5,000 from April.
Only those whose non-savings income is less than £15,500 in 2015-16 will benefit from this change. The main group likely to benefit are pensioners.
Many of those approaching retirement will have a big decision to make as a result of the standout announcement from last year's Budget.
From 6 April, those aged 55 and over will have the freedom to spend their defined contribution pension savings as they like, unless they have bought an annuity - a retirement income - already.
Focus on pensions?
There has been considerable speculation that pensions will be in the spotlight again in this Budget.
Media reports suggest that the chancellor is considering a plan to allow pensioners to take money out of their annuities - and convert their guaranteed income into a cash lump sum.
Another area that could be affected is pension tax relief, a system first introduced in the UK in 1921.
At present, part of the system means UK taxpayers see £1 knocked off their taxable income for every £1 that they contribute to a pension.
There are some limits to this. For example, if somebody earns £60,000 and wants to put that into their pension scheme in a single year, they are likely to pay income tax on contributions over an allowance of £40,000.
The annual allowance can be topped up with any allowance that was not used during the previous three tax years, and other factors can also affect it. There is also a lifetime allowance, at present, of £1.25m.
Reducing these allowances, as has been suggested by Labour, could raise some money to spend elsewhere.
George Bull, senior tax partner at accountancy firm Baker Tilly, said: "While one or two post-election giveaways are likely, the public finances are such that any tax promises which benefit some will have to be paid for by tax increases for others, cuts in services or increased borrowings."
National Insurance speculation
Other changes that were announced previously and are already guaranteed for April include a 1% rise in working age benefits and most public sector pay.
There will also be a freeze, in cash terms, of fuel duties.
National Insurance contributions for those aged under 21 will be abolished in April.
Some have argued that Mr Osborne should go further by allowing all workers to earn more before they start paying National Insurance.
Restrictions
Chas Roy-Chowdhury, head of taxation at accountancy body, the ACCA said: "Since the election in 2010, the government has taken steps to take many of the lowest paid out of income tax. However anyone earning £153 a week, equivalent to less than £8,000 per year, still has to pay National Insurance contributions (NICs).
"If the government is serious about helping the lowest paid they should raise the level at which they start paying NICs. At present those earning between £7,956 and £41,865 pay 12% of their earnings in NICs, making the amount potentially saved by the lowest paid extremely significant."
As ever before the Budget, there are plenty of suggestions as to what the chancellor should do.
He may be restricted as his Lib Dem coalition partners are now preparing to fight an election against each other and may not agree to much.
Instead, Mr Osborne is likely to set out Conservative party ambitions should the party win power.