UK house prices fell 0.3% in February, Halifax says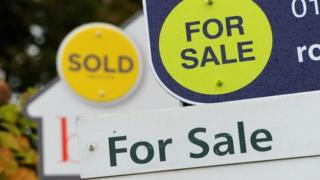 UK house prices fell 0.3% in February leaving the average house price at £192,372, according to the Halifax.
The fall, the first since October, followed a rise of 1.9% in January.
However, prices in the three months to February were up 2.6% compared with the previous quarter.
Quarterly measures are often seen as more reliable as they smooth out monthly volatility, and the Halifax said the underlying trend indicated prices were firming.
Prices in the three months to February were 8.3% higher than for the same three months a year ago, slightly lower than the previous annual increase of 8.5%.
On Monday, Nationwide's latest survey also found house prices fell in February, dropping 0.1%, while the annual rate of growth slowed to 5.7%.
Supply shortage
Martin Ellis, the Halifax's housing economist, said recent rises in people's earnings and spending power, coupled with low mortgage rates and recent stamp duty changes were likely to be underpinning the market.
December's changes to the stamp duty system reduces the amount of duty that the majority of buyers have to pay.
Mr Ellis also said demand for properties remained higher than the number coming on to the market.
"The supply of both new and second hand homes available remains low; another factor which is likely to be supporting house prices."
Howard Archer, chief UK and European economist at IHS Global Insight, said the small fall in house prices during February looked like a minor adjustment after January's relatively steep rise.
"We suspect that housing market activity is now gradually turning around after losing appreciable momentum from the early-2014 peak levels, and we see activity picking up modestly as 2015 progresses."
But the housing charity Shelter says affordability is preventing first-time buyers from entering the property market.
It says 15 years ago, average house prices were five times the average income of first-time buyers, whereas now property is almost 10 times their average wage.
House price calculator
Use our calculator to see where you can afford to rent or buy