Reports of fake law firms double, says SRA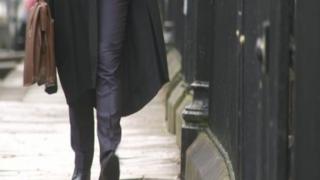 Reports of fake law firms have increased by 101% in the last two years, according to figures from the Solicitors Regulation Authority (SRA).
Criminals are pretending to be genuine lawyers to try to con clients.
The SRA, which regulates solicitors in England and Wales, said it recorded 701 reports about bogus law firms in 2014, up from 349 in 2012.
It follows a warning from the Law Society of Scotland that the number of fake firms is on the rise.
"The type of thing is [when] you receive a text message or email that tells you that you can claim compensation when you have no reason to expect that you can," said Paul Philip, chief executive of the SRA.
"Or that a distant relative has died and if you pass on your bank details then they will pass on a large amount of money to you."
'Shocking'
A minority of cases are far more sophisticated, with criminals posing as solicitors to get involved in transactions worth hundreds of thousands of pounds.
In 2013, Mohamed Imran Noorgat, and his wife Aishah, were buying a flat in London. The conveyancer they used to handle the purchase was genuine but the solicitor on the other side was not. They had no idea until all their money had been handed over to him and he suddenly stopped answering emails.
"It was truly shocking," said Mr Noorgat. "It was exactly £175,000 that we had borrowed from family and friends so that we could be mortgage-free in our first property and literally that was all gone."
The man who took their money used the name of a genuine solicitor called Noel Gareth Edwards, who is registered with the SRA and is based in the Wirral.
"It is upsetting to know that someone has used what I like to think of as my professional good name to con somebody out of a large amount of money," Mr Edwards said.
New system
Mr Philip, of the SRA, told BBC Radio 4's You & Yours programme that more reporting of cases might be behind the rise in numbers that the SRA was seeing.
"When we receive an allegation there is a bogus firm out there we will put out alerts and warnings. Given that we are raising awareness, it is not completely surprising that we are getting more reports," he said.
Various companies offer additional checks on the identity of a conveyancer or the bank account they are using for a fee. The Law Society is due to launch a system of its own soon, specifically aimed at conveyancing.
The system, called Veyo, is a joint venture with IT firm Mastek UK. It promises to create an online portal where secure communication can take place between all the parties involved in the purchase of a residential property in England and Wales. Buyers and sellers should be able to see how the sale is progressing.
"All of the conveyancers who are on the system will be subject to rigorous vetting to ensure that they are who they say they are," said Veyo's chief executive, Elliott Vigar.
Its success will depend on how many people can be persuaded to use it. It will cost conveyancers £20 per transaction plus an annual admin fee of £50 per user. There will be no charge for buyers and sellers to access the site.