Bank flags 50 instances of possible market abuse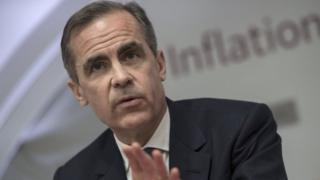 The Bank of England has flagged 50 instances of potential market abuse following a shake up of how it operates.
Governor Mark Carney said of those instances, 42 had been referred to the Financial Conduct Authority, which was investigating "a number" of them.
The Bank reorganised how it operates following the foreign exchange scandal.
Mr Carney said the high number of referrals indicated its new policies were working.
"I'm pleased that the process is working and this demonstrates this. I'd be disappointed if the run rate of what is escalated continues at that high level. There is an element of backlog here," Mr Carney said.
Mr Carney made the comments at a Treasury Committee hearing of MPs.
They were asking questions about an independent report by Lord Grabiner, which cleared the Bank's officials of any improper behaviour in the foreign exchange rigging scandal.
Six banks were collectively fined £2.6bn by UK and US regulators over their traders' attempted manipulation of foreign exchange rates and criminal probes are continuing.
The Bank has been accused of being aware of the issue as early as May 2008, but doing nothing about it.
'Difficult job'
Mr Carney and the Bank of England's chair Anthony Habgood said the Bank had made significant changes to how its officials operate following the emergence of the scandal.
"This is a difficult job to get it right and we're providing the training and the resources to get it right," said Mr Carney.
Anthony Habgood said Lord Grabiner's report had highlighted the fact that "parts of the Bank need to be more professionalised".
Mr Carney also revealed further details of why the Bank had sacked its chief foreign currency exchange dealer, Martin Mallett, in the wake of the internal investigation into foreign exchange manipulation.
"The failure of Mr Mallett was non-escalation. Despite the fact he was aware of the possibility of wrongdoing he did not escalate these issues to his immediate supervisors," said Mr Carney.
He also told the Committee it had discovered "20 examples" of misjudgements made by Mr Mallett, including violation of the Bank's IT and confidentiality policies, as well as use of inappropriate language.