EU membership 'critical' for UK says Ford executive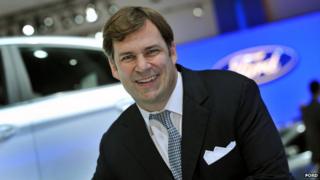 Ford "really hopes" that the UK will not leave the European Union (EU), according to Jim Farley, president of the firm's european operations.
He said it was "critical" for Britain to be part of the EU.
The Prime Minister has pledged to renegotiate Britain's relationship with the EU ahead of an in/out referendum by 2017, if the conservatives form the next government.
Mr Farley also highlighted Ford's important role in the UK economy.
"We have 14,000 employees there and I think we're the second largest R&D base of any automotive manufacturer in the UK.
"The UK is absolutely a centrepiece for our global Ford enterprise," said Mr Farley on the Today programme.
Last month Prime Minister David Cameron said that business supported his plans for a referendum.
He cited comments from the chief of the British Chambers of Commerce, John Longworth, who said that any EU referendum should be held within a year of May's general election to minimise uncertainty for businesses.
Better off?
Ford is not the only company that has urged Britain to stay in the European Union.
In February Centrica boss Iain Conn said: "In my view Britain is better off inside Europe.
"Britain needs to be as competitive as possible."
But others feel that Britain's exit would have little impact on business.
Chairman of China Construction Bank, Wang Hongzhang, has said that Britain's membership of the EU is not an important part of their decision to invest in the UK.
"Whether the UK will stay in the EU or not, will not do any harm to trade and economic ties or financial relations between the UK and China," said Mr Hongzhang.