Banks' PPI bill now totals £24.4bn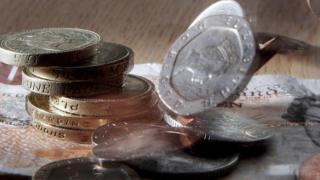 The bill for the mis-selling of payment protection insurance (PPI) by the five biggest banks in the UK has now reached £24.4bn, says consumer group Which?.
Various banks have revealed extensions in their provision for dealing with compensation claims in recent days.
PPI was mis-sold on a massive scale to people who did not want or need it.
The financial ombudsman, which adjudicates on complex cases, says the rate of claims has not slowed as much as it had expected.
Banks' bills
The amount set aside for PPI mis-selling has been detailed in banks' annual results released over the past few days.
Barclays said its provision increased by £200m in the last three months of 2014, taking the year's total to £1.1bn. Santander added another £30m.
Lloyds, partly owned by the taxpayer, set aside a further £700m over the same period, bringing its total for the year to £2.2bn.
RBS, which is majority-owned by the taxpayer, made an additional £400m provision, to bring the total for the year to £650m, while HSBC allowed an additional £278m taking its total for the year to £624m.
All these amounts come on top of billions of pounds which have been set aside by the top banks in previous years.
Richard Lloyd, executive director of Which?, said: "Yet again banks are having to set aside more money to cover the staggering PPI mis-selling scandal. All banks need to make it as easy as possible for people to claim back their money so they are not encouraged to use unscrupulous claims management companies."
---
What is payment protection insurance?
PPI is designed to help policyholders repay loans and credit card debts in the event of illness, accident, redundancy or death.
But it was mis-sold to millions of people. Policies often did not pay out when people needed help. Many sales staff did not explain PPI properly, for example to the self-employed or those with pre-existing medical conditions who would never be able to make a valid claim.
Compensation claims have led to an average payout for millions of people, averaging just under £3,000 each.
---
Complexity
Many thousands of compensation payments have already been made. Banks and building societies are still dealing relatively swiftly with simple cases.
Some of the more complex, older cases - where evidence is more difficult to gather - tend to end up with the financial ombudsman service. It adjudicates in cases where the customer and the financial firm cannot agree.
It had anticipated the trend of fewer cases reaching its desks to continue, but a spokeswoman said this had not happened in recent months.
Instead it was hiring a further 200 adjudicators to oversee cases. This has been funded with a war chest built up from a "PPI levy" charged to financial firms for every PPI case that ended up with the ombudsman. This levy, of £350 per case, was stopped in March 2014 after the number of cases fell.
PPI accounted for two-thirds of all financial complaints dealt with by the service in the second half of 2014.