Passport website sues its customers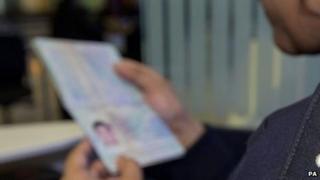 An unofficial passport website has sued more than 150 of its own customers after many tried to cancel or refused to pay believing they had been misled.
Some who used Britishpassportservices.co.uk said they thought they were on the government's official website when trying to book appointments for urgent passports.
But the website told BBC Radio 4's You and Yours that there were disclaimers which the customers did not read.
Some of them have now been sued.
'Threatening'
Retired City of London Police officer Mark Dilliway paid Britishpassportservices.co.uk £117 for an appointment - which is free of charge from the government.
"There was a button there to arrange an urgent appointment," he said.
It was not until he rang the official Passport Office that he realised his mistake.
"They said you haven't made the appointment through any of our offices, you've made it through a third party. That was when I felt sick. I just could not believe I'd fallen for it," he said.
Martin Wyatt, from Bristol, did not realise what had happened until he got to the Passport Office for the appointment.
His credit card company agreed to stop the payment, but later the website owners warned they would take legal action.
"They left threatening messages and by that time the cost inflated to about £177 and they detailed various calls and various text messages charging you typically £5 or £10 for each contact," he said.
'Valuable service'
Chantelle Parker Mills said she worked out it was not the official site and pulled out before entering payment, and booked her own appointment with the official Passport Office.
She said the company had been extremely aggressive.
UK Services and Support Ltd which runs Britishpassportservices.co.uk went on to sue her, and succeeded because when court documents arrived - giving Ms Mills 14 days to respond - she ignored them.
In cases like this, if one side does not turn up, the other side automatically wins. This is called a default judgement. The case has not been looked at by a judge at all.
UK Services and Support Ltd is 18 months old, and has sued 150 people - obtaining default judgements against many of them.
Richard Howard, the 28-year-old director of UK Services and Support Ltd, repeatedly denied his website misleads people into believing it is the government site.
He pointed out that at the top of his site it said "no government affiliation" and it also said "our fees can be avoided by visiting the Post or Passport Offices incurring just the passport fee still due if using our service as we are an unaccredited company without any government license" [sic].
Mr Howard also insisted he offered a valuable service.
He has also set up a political party, which runs what looks like a regulator website www.websitestandardsagency.eu and also what looks like a consumer advice website, consumer-rights.org.uk. Neither is official.
In September 2014, the Advertising Standards Authority ruled another of Mr Howard's passport sites www.Ukpassportoffices.co.uk was misleading consumers. Five years ago his company, Phonenumbers4u Ltd, was fined by the premium rate regulator Phonepayplus.