Lego profits rise in 'highly satisfactory' year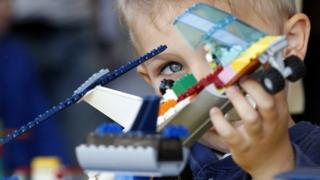 Lego has hailed its performance last year as "highly satisfactory" with a 15% increase in both sales and profits.
Sales rose 15% to 28.6bn Danish kroner (£2.8bn), with net profit up 15% to 7bn kroner, it said.
The firm, the world's largest toy maker, said sales in the US, UK, France, Russia and China were particularly strong.
Best-sellers included its City range, including cars and firemen, Star Wars range and Lego Friend sets.
The firm estimates 85 million children played with one of its toys last year.
Lego said it had focused on making its operations more global, opening offices in both Shanghai and London last year.
It expects a factory it is building in China, to supply the Asian market, to start running this year and become fully operational by 2017.
Last year, Lego said that Asia accounted for almost 10% of its sales.
Profit machine
The firm is controlled by Denmark's richest man, Kjeld Kirk Kristiansen, who is the grandson of Lego's founder.
The company almost went bankrupt in the early 2000s, but has managed to dramatically transform its fortunes.
It is now the world's most powerful and most valuable brand, ahead of both Ferrari and Apple, according to the latest research from consultancy Brand Finance.
Louise Cooper, an independent analyst, said Lego was "a profit machine".
"The one figure that grabbed my attention was the 33.9% operating margin. That is an extraordinarily high profit margin for a business that essentially extrudes commoditised coloured plastic into different shaped bricks," she said.
Ms Cooper said Lego's return on equity rate (ROE) of 58.8%, the key marker of the return a firm is making on the money it invests, was also "extraordinary".
"Just for comparison the ROE at HSBC was 7.3% earlier this week. If anyone deserves multi-million-pound bonuses it is not bankers, but Lego makers," she added.
---
Fun Lego facts
•On average, each person on Earth owns 86 Lego bricks
•Ten Lego sets are sold each second
•Lego is an abbreviation of the Danish words leg godt, meaning "play well"
• Lego began manufacturing interlocking toy bricks in 1949 and since then estimates it's made about 600 billion parts.
---