Government names firms flouting minimum wage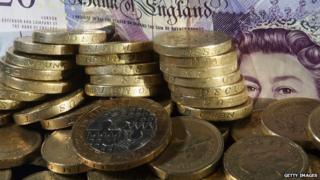 The government has named 70 companies that have failed to pay workers the minimum wage.
The worst offender was care provider East Midlands Crossroads, which owed £37,500 to 184 workers.
About 100 cases in the care sector are being investigated, which the Government calls the "tip of the iceberg".
All the firms named face financial penalties as well as suffering damage to their reputations.
Some 160 firms have been named since a new regime came into force in 2013.
Delcom Systems in Salisbury owed £11,730 to staff, while the Apostolic Church in London owed £8,300 and a worker at the Young Friends Nursery in Hove had been underpaid by £6,700.
Naming and shaming
Business Minister Jo Swinson said paying less than the minimum wage was illegal, immoral and completely unacceptable.
"Naming and shaming gives a clear warning to employers who ignore the rules, that they will face reputational consequences as well as financial penalties of up to £20,000 if they don't pay the minimum wage," she said.
Legislation is being planned so that the fine can be applied to each underpaid worker, rather than per employer.
"We are helping workers recover the hundreds of thousands of pounds in pay owed to them as well as raising awareness to make sure workers are paid fairly in the first place," Ms Swinson added.
'Cheating bosses'
TUC general secretary Frances O'Grady called for more prosecutions and higher fines.
"Cheating bosses who fleece their workers out of their hard earned pay must end up in court - and there are still lots of under-paying employers who are getting away with it," she said.
The latest naming and shaming comes a day after the Low Pay Commission recommended a 3% rise in the adult minimum wage from £6.50 an hour to £6.70 an hour from October.
That would be the biggest increase since 2008 if it is accepted by the Government. A decision will be made in the coming weeks.
The rate for 18 to 20-year-olds would go up to £5.30 an hour, £3.87 for 16 and 17-year-olds and £2.80 an hour for apprentices.
Last year the adult minimum wage rose by 3% from £6.31 to £6.50.
Labour leader Ed Miliband said last year that the minimum wage would rise to £8 an hour over the course of the next parliament if his party wins the general election.