Bovis Homes annual profits jump sharply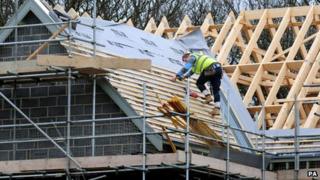 Housebuilder Bovis Homes has reported a 69% rise in annual profits to £133.5m after an "excellent" year.
The number of homes sold rose to a record 3,635, 20% higher than in the previous year, with the average sale price up 11% to £216,600.
Bovis said demand remained high, with the UK set to create 200,000 extra households a year.
It also said it would raise its full-year dividend payment to shareholders by a hefty 159% to 35p a share.
David Ritchie, the chief executive of Bovis Homes, told the BBC's Today programme: "We have been gearing up for a big push for the past five years. We see this as a fantastic time to grow."
On the negative side, extra activity meant labour had become scarcer and more expensive, raising construction costs in 2014 by 12%, although prices of private homes had outstripped this with a rise of 14% over the year.
Bovis warned it would see a 7% rise in construction costs this year, partly because it was shifting the balance of its business more towards the south of England.