Real wages to rise for first time since 2007, says EY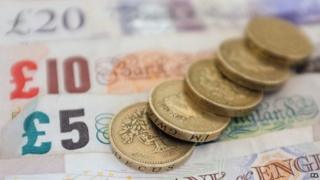 UK workers are set to see their real pay rise this year for the first time since 2007, according to a report from economic forecaster EY Item Club.
It says that real wages - those taking out the impact of inflation - will rise by 1.8% this year, before "further steady rises thereafter".
Prices have risen faster than wages in recent years, but falling inflation means the situation has now reversed.
EY said real average earnings in the UK have fallen by 8% since 2008.
This is the biggest decline over any equivalent time period since records began in the mid-19th century.
Rising wages
Inflation in January fell to a record low of 0.3%.
This was largely due to lower food and energy costs - the price of oil has fallen almost 50% since last summer, helping to bring down inflation from almost 2%.
The Bank of England has said that inflation may temporarily turn negative in the spring.
Meanwhile, average earnings including bonuses in the three months to December rose 2.1% from a year earlier. Excluding bonuses, earnings rose 1.7%.
The Item Club said that despite a rise in real wages this year, the pace of increase would fall short of pre-financial crisis levels.
It also forecast that the rate of unemployment, which currently stands at 5.7%, would return to its pre-crisis level of just above 5% by 2018.
Interest rates
EY said rising real wages would "would be consistent with a very gradual tightening of monetary policy" from early 2016 onwards. This means it expects to see interest rates to start rising from the beginning of next year.
A slow pick up in wage rises would also mean that income tax receipts "may continue to disappoint", the group said, which means the government would have less room to cut spending and taxes.
It added that companies would also have to adjust after such a long period of low wage rises or, in some cases, no wage rises.