Housing starts in England up 10% in 2014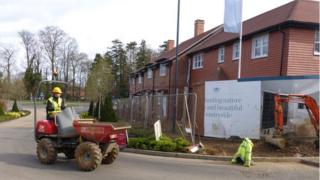 The number of new houses that were built in England last year rose significantly, government figures show.
A total of 137,000 homes were started in 2014, a rise of 10% on the previous year, according to the Department of Communities and Local Government (DCLG).
The number of homes being completed rose to 118,760 - up 8% on 2013.
The industry welcomed the rise, but said it was still "way short" of what the country needs.
However the figures also show that the number of homes being started declined sharply in the final quarter of the year.
And in 2014 house-building was still 25% below the peak reached in 2007.
The housing charity Shelter said it was particularly concerned about the number of affordable homes being completed.
"While a small increase in the number of homes built might be heralded as a success, the real story here is the shocking fact that we're building just half the homes we need in England," said Campbell Robb, the chief executive of Shelter.
Planning permission
The Home Builders Federation said that more than 100,000 extra people were now employed in house-building, providing a boost to the economy.
However, it wants further incentives to encourage more development.
"We are still way short of building the number of new homes the country needs," said Stewart Baseley, executive chairman at the Home Builders Federation.
He said that despite the government's Help to Buy scheme, it was still too difficult for developers to get planning permission.
The DCLG said it was mainly areas in the south of England which had seen the biggest rise in building.
The M1 corridor, South Gloucestershire, Cornwall, the South Coast and areas north of London were all cited in the figures.