US manufacturing: The rise of the niche manufacturer
By Kim Gittleson
BBC business reporter, New York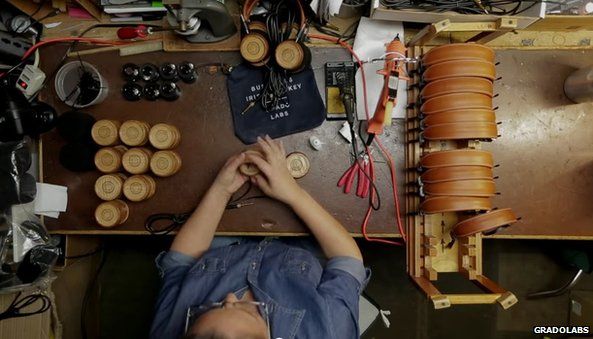 Walk too fast down the street in Sunset Park, Brooklyn, and it's pretty easy to miss Grado Labs amongst the various Vietnamese, Chinese and Thai restaurants that dot the block.
"If you think you're at the wrong place, you've made it," third-generation family member Jonathan Grado, 23, says with a laugh, as he pulls a key to the Grado listening room from a hidden cabinet in a second-floor bathroom.
The key unlocks a cosy, carpeted space in the brownstone, or terraced house, that the Grados have inhabited since 1918.
It is filled with dozens of albums - the preferred Grado test albums include Ella Fitzgerald, Duke Ellington and Eric Clapton unplugged - and an elaborate speaker set-up, where visitors can test the company's twenty or so models of high-quality headphones.
"We're back-ordered for seven or eight weeks, which has never happened before," says Mr Grado, shaking his head at the rapid turnaround that the company has gone through over the past few years.
That's because Grado, like so many other US manufacturers, fell on hard times in the 1990s, as a combination of changing audio technologies and outsourcing decimated the family business of manufacturing phonograph cartridges.
By the time Jonathan's father, John, now 62, bought the business, intent on turning his ideas for high-quality headphones into a reality, the family was forced to move into the brownstone. Grado had gone from manufacturing 10,000 cartridges a week and having 85 staff to operating a skeleton crew.
John didn't pay himself a salary for the first four years, as he worked on coming up with headphones, mingling his tinkering with his growing family: a wall in the first-floor factory, which has pieces of tape that chart his son Jonathan's height over the years, stands as a testament to just how intertwined the Grado family and its factory became.
But now, as high-quality headphones have taken off and new technologies like social media have allowed Grado - which hasn't advertised since 1964 - to market its wares, the company is once again growing.
And it is growing fast enough that Jonathan, who was once embarrassed by the family business, now says he's looking with new eyes at a future in manufacturing.
Grado is not alone: it's a phenomenon that's happening across the US, with small manufacturers, many of which are headed by young entrepreneurs that focus on unique products, popping up in hubs like Brooklyn, Chicago and Los Angeles.
"We're starting to see kind of a re-emergence of lots of small niche manufacturers," says Jeff Cornwall, a professor of entrepreneurship at Belmont University.
Call it the rise of artisanal manufacturing.
According to the US Census Bureau, over 75% of US manufacturing firms employ 20 or fewer employees. Although these firms make up only 9% of US manufacturing jobs, they are by and large the types of businesses that have been growing and creating jobs since the recession.
This is due to a variety of factors, including changing consumer habits as well as the rising cost of doing business overseas.
"There's a growing dissatisfaction with the way of the last decade or two which has been - let's just outsource it and rely on large foreign manufacturers to take care of all of our needs," says Prof Cornwall.
"If you look at some of the hidden costs that come about from trying to outsource, it's really resulted in much smaller cost saving than people first thought."
Take the case of Matthew Burnett, 30, a co-founder of Maker's Row, a website which connects manufacturers with brands.
A Detroit native, Mr Burnett says the idea for Maker's Row came when he was attempting to produce his own line of watches overseas, in China, in 2007.
"During that time I recognized there is no red carpet treatment for small businesses overseas - your largest order is going to be the next guy's smallest order so you're always being pushed to the back of the line," he says.
After a batch of watches was badly made, resulting in a loss of nearly $40,000 (£26,000), he says he decided to look at manufacturing in the US.
He soon found out he was not alone in his search for local manufacturers, and connected with Tanya Menendez, 27, to help launch Maker's Row, which now has over 6,000 manufacturers and 50,000 brands on its site.
"This was a perfect storm," he says.
If a tree falls in Brooklyn
And it is a storm driven particularly by younger consumer habits, not just manufacturing preferences.
"We don't have the mass market mentality in the US anymore," says Prof Cornwall, as consumers increasingly focus not just on cost but on quality and a sense that the products they buy should be ethically manufactured and locally sourced.
Those consumer sentiments are precisely what led Dan Richfield, 34, a former web developer, and Roger Benton, 37, a furniture maker, to focus their energies on starting up Re-Co Bklyn, New York City's only sawmill.
Re-Co, which fittingly recently re-located to a former low-end cabinet factory in Ridgewood, Brooklyn, works with a variety of parties to find felled trees in the New York City area and turns them into wooden slabs used to make tables and other types of furniture.
There are slabs of wood from trees that came down during Hurricane Sandy, as well as hundred-year-old elm trees that once towered over 19th Century graves in Greenwood Cemetery in Brooklyn.
While it might seem slightly incongruous to have a table made from a New York City tree - which are known mostly for their ability to survive a toxic mix of air pollution, concrete, and sidewalk abuse - the duo argue that its precisely these factors that make their operation so unique.
"Each one of our pieces are one of a kind - they look unique, and that's part of the reason they're sought after," says Mr Richfield.
The company has tripled in size since it was founded, partially as a result of their unique offerings as well as their ability to keep prices low by focusing on local woods and local suppliers.
While no one expects these small manufacturers to truly be able to replace the nearly 5.8 million manufacturing jobs that the US has lost in the past two decades, the hope is that by creating a web of small firms, they can be anchors that will power local economies.
"The entire ecosystem will benefit from them pulling up other businesses they buy from," says Prof Cornwall.
Related Internet Links
The BBC is not responsible for the content of external sites.