Profit doubles at newcomer bank Aldermore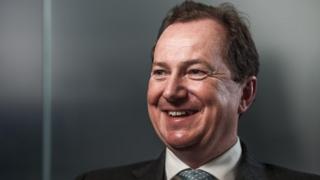 Profit at the British bank Aldermore more than doubled in 2014, as it picked up customers from bigger rivals.
Profit rose to £56m at the bank, which was set up in 2009 by former Barclays executive Phillip Monks.
Mr Monks described it as "a great year", telling Reuters that customers were "coming to us in droves... They're still finding the big banks very, very difficult to deal with".
Aldermore does not have branches and lends mainly to small businesses.
Last year, it cancelled plans for a stock market flotation because of the turmoil in the stock markets. The bank has said it will revive those plans when the time is right, but as yet has given no indication of when that might be.
Mr Monks also denied a report that it had held merger talks with TSB.
Net lending to customers grew 42% to £4.8bn last year and the bank said it expected its net lending to grow in line with the current rate in 2015.