Phone-hacking: Trinity Mirror apologises to its victims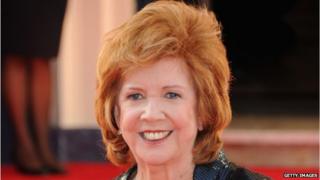 Trinity Mirror - the owner and publisher of the Daily Mirror and the Sunday Mirror - has apologised to "all its victims of phone hacking".
In an apology, published in the Daily Mirror, it said voicemails on certain people's phones were unlawfully accessed "some years ago".
Information found was then used in the papers, which was "an unacceptable intrusion" into private lives, it said.
Trinity Mirror has already settled a number of phone-hacking claims.
The company told its shareholders it would set aside more money to pay the cost of settling further phone hacking claims that may emerge.
It has now set aside an extra £8m, taking the total to £12m, to cover compensation payments to victims and associated legal costs.
In the printed apology, it said: "It was unlawful and should never have happened, and fell far below the standards our readers expect and deserve.
"We are taking this opportunity to give every victim a sincere apology for what happened."
It said phone hacking had "long since been banished from Trinity Mirror's business and we are committed to ensuring it will not happen again".
Trinity Mirror also publishes the Sunday People which will carry the apology along with the Sunday Mirror.
Hacked Off, the campaign for a "free and accountable" press, said the Trinity Mirror apology confirmed what it had always believed - that phone hacking was "not confined to the News of the World".
It said the move was "four years late and fails to deal with the issue of corporate responsibility, cover-ups and a continuing rejection of effective regulation and fair remedy".
Singer Cilla Black was among celebrities who settled phone-hacking claims for "substantial" damages in the High Court last month.
Actor Darren Day, EastEnders star Jessie Wallace and singer Peter Andre also settled claims against Mirror Group Newspapers, which is a subsidiary of Trinity Mirror.
The hacking was alleged to have taken place between 2000 and 2006.
Settlements were also previously agreed with the former head coach of the England football team, Sven-Goran Eriksson, actor Christopher Eccleston, David and Victoria Beckham's former nanny Abbie Gibson, actor Shane Richie's wife Christie Roche and his friend and agent Phil Dale.
Guilty of phone hacking
In September last year, Trinity Mirror admitted for the first time that some of its journalists had been involved in phone hacking, and said it would pay compensation to four people.
They were entertainer Shane Richie, soap actresses Shobna Gulati and Lucy Benjamin, and BBC creative director Alan Yentob.
In November, former Sunday Mirror investigations editor Graham Johnson pleaded guilty to intercepting voicemail messages in 2001.
He was the second Mirror Group Newspapers journalist to admit to phone hacking.
Trinity Mirror told shareholders: "As the process of dealing with the civil claims has progressed, it has become evident that the cost of resolving these claims will be higher than previously envisaged.
"Inevitably there remains some uncertainty as to how matters will progress and whether or not new allegations or claims will emerge and their possible financial impact."
Allegations of phone hacking at the News of the World, owned by News International, led to a large-scale police investigation that uncovered many victims and led to the newspaper's closure in 2011.
It also prompted the Leveson inquiry into press standards and regulation.
Correction 14 February 2015: An earlier version of this story incorrectly stated that Shane Richie, Shobna Gulati, Lucy Benjamin and Alan Yentob had settled claims. It also incorrectly stated that Graham Johnson was the first Mirror Group Newspapers journalist to admit to phone hacking. He was the second.