EDF pushes back Hinkley Point nuclear decision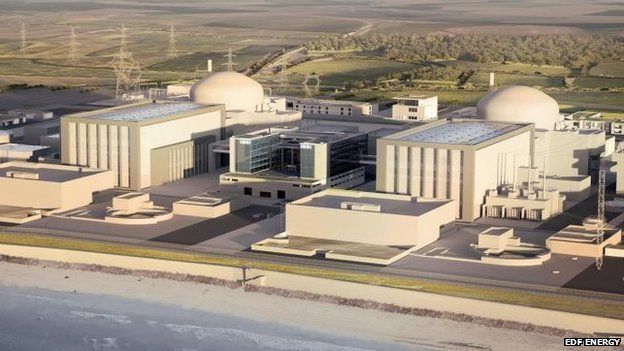 French energy group EDF has delayed an investment decision on a £16bn project to build two nuclear energy reactors in Hinkley Point, Somerset.
Last month, the firm said it expected to sign an agreement in March.
On Thursday, EDF's chief executive said the company was in "the final phase of negotiations, but that phase can take a considerable amount of time".
Plans to build two reactors at Hinkley Point are currently facing a potential legal challenge from Austria.
The company's comments came as it reported net income rose by 5.2% last year to 3.7bn euros (£2.4bn), as output at its nuclear plants beat forecasts.
However, profits in the UK were down 25% due to unplanned closures at two of its stations.
The firm had to shut down its Heysham 1 station in Morecambe and its Hartlepool unit in August for boiler inspections.
Analysis: John Moylan, BBC industry correspondent
When will EDF make the decision to invest in Britain's first new nuclear power plant in a generation?
A "final investment decision" (FID) had been expected by the end of 2014. That was delayed until the end of the first quarter 2015. Now that deadline seems unlikely.
EDF hopes to conclude talks with its proposed stakeholders - including two state-owned Chinese nuclear firms - by the end of March.
But with an election pending it's likely a FID will be put off until May/June at the earliest. Some have speculated it could be pushed back until the autumn.
That must all raise serious questions over EDF's plan to be generating power from Hinkley Point C by the end of 2023.
Austria, which opposes nuclear energy, has challenged the subsidy deal between the UK and EDF.
The challenge threatens to stall investment plans and been met with retaliation from UK Prime Minister David Cameron.
Chief executive Jean-Bernard Levy said talks between EDF's partners, French nuclear group Areva and the UK government were continuing.
He said: "We are in the final phase of negotiations, but that phase can take a considerable amount of time, depending on the number of problems left to resolve.
"There is no other project on the agenda."
EDF, 84.5%-owned by the French state, is the world's biggest operator of nuclear plants.