Cricket World Cup hosts Australia and NZ to reap rewards?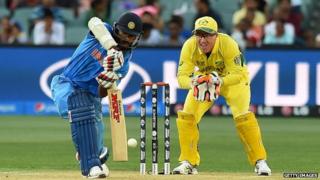 Over the next six weeks more than two billion people, many of them bleary-eyed, are expected to watch the 2015 Cricket World Cup unfold in Australia and New Zealand.
The multi-million dollar global showcase will be a sporting marathon, not just for TV viewers facing the tyranny of far eastern time zones, but for players and officials.
Fourteen teams will play 49 matches across the two countries before the tournament wraps up in late March at the Melbourne Cricket Ground.
David Richardson, chief executive of the International Cricket Council (ICC), says the event has become a huge international spectacle since it began in 1975.
"It is going to be broadcast in over 200 territories. It is half as big as the Fifa World Cup, but 10 times as big as the Rugby World Cup. So we are very proud of the fact that cricket can count itself amongst one of the biggest global sports."
Profitable venture
Spectators at the World Cup are the ICC's biggest source of revenue. But there will be other economic dividends too.
"Tourism Australia sees it as a great benefit to the country," says Tim Harcourt from the University of New South Wales Business School. "The other thing that is good, too, is that for the most part cricket fans have a lot of cash."
As part of its sports diplomacy programme, the Australian government's trade commission will hold a series of business events during the World Cup that will focus on investment, education and tourism.
Mr Harcourt believes that as co-hosts, Australia has the experience to deliver an impressive tournament.
"We manage mining projects in Mongolia, or irrigation projects in Uttar Pradesh in India, and sports events are like that. You've got to move populations around a vast country," he says.
"The same skills apply to sporting-type projects, so I think we have developed those skills, particularly since the Sydney Olympics in 2000."
Although event organisers won't speculate on how much money the event will make, press reports suggest it will generate profits of more than $200m (£130m), compared to about $320m from the 2011 ICC Cricket World Cup hosted by India.
Vast amounts come from sponsorship and TV deals, and some of the proceeds from previous competitions have been used to help the game grow beyond its traditional powerbases.
Cricket in Ireland, for example, has blossomed since the country first participated in the tournament eight years ago.
Wicketkeeper Gary Wilson says a good performance this time around will boost the game's finances back home.
"We put Irish cricket on the map in 2007. From that we have got so many sponsors, and we were very lucky with the sponsor we had from 2007 up until now, and then Ireland.com have come on and supported us for this World Cup.
"Companies will be looking at how we perform in this tournament and potential for the future," he says.
End game?
Money is, however, also threatening to destabilise the international game.
Last October, the West Indies pulled out of a tour of India because of a pay dispute between the board and the players. Authorities in India appear intent on recouping lost revenue, possibly through the courts, and there are those who fear that West Indies cricket could be mortally wounded.
But speaking to the BBC in Sydney, former West Indies captain Darren Sammy insists that the problems are being resolved.
"We are moving forward. What happened in India is something that all parties would love to forget, but the fact is that there were some issues and the people in various positions are working together to solve those issues.
"As cricketers, our job is to go out there and produce on the cricket field and there are always areas where everybody will not agree on."
Rivalries between India, the reigning champions, and the unpredictable kings of the Caribbean, will resume in a Pool B fixture in early March in Perth.
While money has soured their off-field relations, George Dobell, a senior correspondent at the ESPN CricInfo website, says the game as a whole needs to reassess its priorities. He believes the World Cup goes on for far too long and has made money, and not entertainment, its main goal.
"Creating money isn't a bad thing and I don't want to suggest it is, but we are actually a sport, and it should be about propagating the sport not propagating the wealth," he says.
"I've got no problem with the wealth because you can do great things with it. But we've got the cart before the horse a little bit and I'm just worried that we're actually damaging the product in the very short-term pursuit of the money."
Preparations are all but complete ahead of the opening round of matches. Up for grabs are not only honour and prestige, but also prize money worth $10m.