HSBC questions loom for tax chief at MPs hearing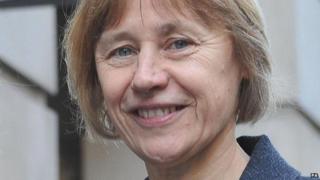 The boss of HM Revenue & Customs will appear before a panel of MPs later on Wednesday and will face questions about its role in the HSBC tax evasion row.
The Public Accounts Committee (PAC) will hear from Lin Homer at a scheduled hearing which will be spiced up by this week's revelations about HSBC.
The bank helped 100,000 individuals - 7,000 UK nationals - with tax affairs.
On Tuesday, HMRC said it could not share information it had about the bank because of an international agreement.
HMRC was passed a hoard of documents in 2010 from France about clients of HSBC's Swiss operation.
The PAC is also planning to hear from Lord Green, who was the most senior figure at the bank for much of the time the documents cover.
Labour, which is setting out the measures it will take to tackle tax avoidance on Wednesday, is calling for Lord Green and the prime minister to make a full statement about his role at HSBC, and his appointment as a government minister in 2011.
The scandal has triggered promises of scrutiny from around the world.
Claims
Amid a row over what ministers knew and the regulator's role, HM Revenue & Customs said the details it had could not "move outside the department".
The regulator, the Financial Conduct Authority's (FCA) chief executive Martin Wheatley, had earlier told the Treasury Committee that he was "not aware" of his organisation being told of specific claims of collusion in tax evasion.
In the UK, a Downing Street spokeswoman said no ministers were aware of the claims.
HSBC has admitted that it was "accountable for past control failures." But it said it has now "fundamentally changed".
The bank now faces criminal investigations in the US, France, Belgium and Argentina, but not in the UK, where HSBC is based.
HSBC said it is "co-operating with relevant authorities".
Offshore accounts are not illegal, but many people use them to hide cash from the tax authorities. And while tax avoidance is perfectly legal, deliberately hiding money to evade tax is not.
HSBC's Swiss accounts in numbers
106,000
clients with Swiss bank accounts
$118bn total assets held in Swiss accounts

11,235 clients from Switzerland held $31.2bn

9,187 clients from France held $12.5bn

7,000 clients from UK held $21.7bn
Reuters